Dad's Enthusiasm For Mesothelioma Advocacy Keeps Me Going
After my father's surgery at NYU Langone, he stayed with my husband and me for about a week before making the final three hour trek home. It was during that time that we started talking about fundraising for the Mesothelioma Applied Research Foundation. Dad was excited about it, you could see the gleam in his eyes. He loved being a part of events and parties, and this was something personal to him. He was all in!
Our first fundraiser was at Dunbar Community Fest in the town where he lived his entire life. As we began to plan our part, donations started coming in from family and friends. We were overwhelmed by the outpouring of generosity and love. The morning of the event, we set up and began waiting for the crowds to arrive.
I will never forget watching Dad that day. He almost served as the "ambassador" of our little tent. He stood out in front, talking to everyone and greeting them with a smile. Living in a small town, everyone knows each other. My father was well-loved, and the entire community was happy to see him doing so well and present for the event.
When we finally packed up and headed home, Dad was grinning ear to ear, talking about all the people he saw that day, and humbled by all the prayers and well wishes offered to him.
Throughout the rest of his life, Dad was always involved in any fundraisers that we did. Shortly before he passed away, he missed the Community Fest because he was in the hospital. I know he was sad to miss it, but encouraged us to go forward with our booth, knowing it was meant to help others.
He is my inspiration for continuing to help this cause. Even when he was down, Dad was a light to others in ways he never knew. I am proud to continue the work on his behalf, knowing he is smiling down on us from Heaven.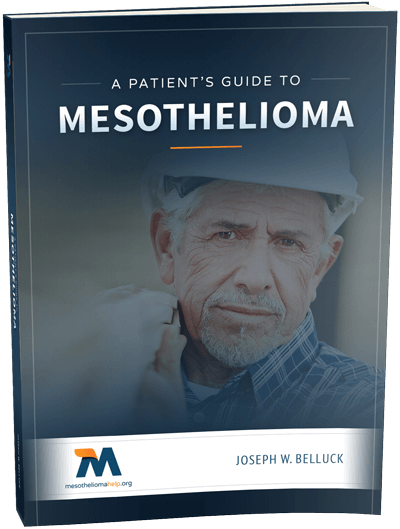 Free Mesothelioma Patient & Treatment Guide
We'd like to offer you our in-depth guide, "A Patient's Guide to Mesothelioma," absolutely free of charge.
It contains a wealth of information and resources to help you better understand the condition, choose (and afford) appropriate treatment, and exercise your legal right to compensation.
Download Now