Older Mesothelioma Patients "Less Likely" to Receive Treatment
Last week, MesotheliomaHelp reported on the benefits of mesothelioma patients receiving trimodal therapy. Now, in another study aimed at better understanding the patterns of mesothelioma care and the associated survival, researchers found a startling number of untreated mesothelioma patients in the U.S.
Researchers from the National Cancer Institute reviewed the data of mesothelioma patients, identified as such from the Surveillance, Epidemiology, and End Results (SEER) Program of the NCI. SEER provides information on cancer statistics in an effort to reduce the cancer burden among the U.S. population. The data backed findings that mutli-modal therapy is best, however, the researchers discovered that nearly one-third of U.S. mesothelioma patients do not receive cancer therapy.
The study reviewed records of 389 pleural mesothelioma patients and 53 non-pleural mesothelioma patients, all of who were diagnosed in 2011. The researchers highlight the following key points of the study:
29.3% of the pleural mesothelioma patients and 21.5% of the non-pleural patients do not receive cancer therapy.
Older pleural patients [older than 70-years] were less likely to receive therapy.
Median survival was 8 months among pleural mesothelioma patients and 18 months among non-pleural mesothelioma patients.
Among pleural mesothelioma patients receipt of surgery and systemic therapy was associated with the best survival.
Further information showed that, not surprisingly, younger pleural mesothelioma patients had better survival. In addition, 60 percent of the patients received some form of systemic treatment, which includes chemotherapy and immunotherapy, although the older population was "less likely" to undergo the treatments.
Patients may refuse treatment for a variety of reasons, and understanding and respecting the wishes of a patient is important. Read how one nurse explains a "Mesothelioma Patients' Treatment Plans Can Match Their Wants."
Of concern to the team is the fact that with all the mesothelioma research being done to find an effective treatment, and potentially a cure for the now incurable cancer, nearly one-third of the patient population could be missing out on extended survival.
Expert Insight
Lindsey Enewold, PhD, MPH, NCI
"Our findings indicate that only a subset of mesothelioma patients realize the benefit of established treatment options."
The researchers point out that clinical trials "offer the best hope of finding more effective treatments for mesothelioma," yet still, less than 5% of pleural mesothelioma patients and less than 2% of the non-pleural mesothelioma patients actually participated in a trial.
"Expanding our understanding of the particular challenges to participation in clinical trials in mesothelioma is essential to making an impact on this disease," reported the researchers.
"These findings indicate the need for efforts to ensure equitable application of currently available therapies to all patients," concluded the authors.
According to the NCI, the major cause of malignant mesothelioma is exposure to asbestos, including people who were exposed to asbestos in the workplace and their family members. Development of mesothelioma from asbestos exposure via a loved one is called second hand exposure. Exposure to asbestos can lead to mesothelioma decades later. Nearly 3,000 Americans are diagnosed with mesothelioma each year.
Read the full study, "Patterns of care and survival among patients with malignant mesothelioma in the United States," in the August 10 journal Lung Cancer.
http://www.lungcancerjournal.info/article/S0169-5002%2815%2900157-9/abstract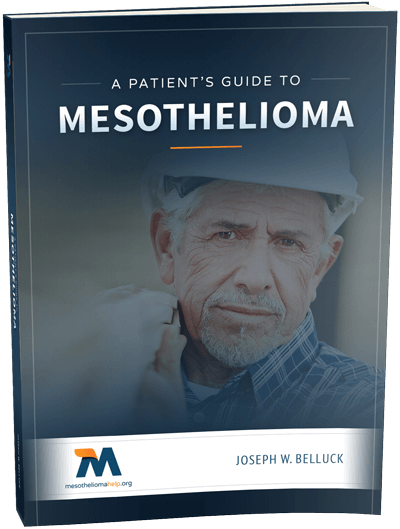 Free Mesothelioma Patient & Treatment Guide
We'd like to offer you our in-depth guide, "A Patient's Guide to Mesothelioma," absolutely free of charge.
It contains a wealth of information and resources to help you better understand the condition, choose (and afford) appropriate treatment, and exercise your legal right to compensation.
Download Now