Older Patients Burdened by Mesothelioma and Lung Cancer Treatments
The American Cancer Society reports that lung cancer mainly occurs in older people, with about two out of three lung cancer patients aged 65 or older. The average age at the time of diagnosis is about 70. Pleural mesothelioma, a cancer caused by exposure to asbestos, produces tumors that grow uncontrollably in the lining of the lung and is equally as aggressive and difficult to treat as lung cancer. About three out of four people with mesothelioma are older than 65 years. Now, researchers report that these older patients "face a significant treatment burden" when diagnosed with cancer.
According to a Jan. 10 article in Medical News Today, this older population of patients may face spending one-third of their time interacting with medical teams for the 60 days following surgery or radiation. Previous research has shown that nearly half of older cancer patients have medical problems that also need to be addressed such as reduced physical functioning, nutritional deficiencies, fatigue and depression. Pointing to all of these issues, researchers from Yale found after treatment for cancer, older patients saw an average of 20 different physicians and took 12 different medications.
"To our knowledge, this is the first study to characterize treatment burden for early-stage lung cancer patients in terms of touches with the healthcare system, including emergency department visits, hospital-based follow-up care, number of physicians, and outpatient visits," said first author Carolyn Presley, M.D., instructor at Yale Cancer Center and a Robert Wood Johnson Clinical Scholar at Yale School of Medicine.
This news may come as no surprise to many in the mesothelioma community who have battled pleural mesothelioma themselves or who stood by their loved one as they underwent treatment. Battling any disease for the older population is difficult, but dealing with a painful, incurable cancer can be extremely challenging. Treatment for mesothelioma is often a complex regimen including surgery, chemotherapy and radiation. These treatments also come with a set of side effects that can lead to more medical challenges in an older patient.
"These findings highlight a need to improve cancer care coordination. It's also a call for providers to think about the burden we might be placing on patients," said Carolyn Presley, M.D.
While the average survival time of mesothelioma patients typically varies from 4 – 18 months after diagnosis, many factors determine the life expectancy. Factors include type and stage of mesothelioma, treatment plan, whether the patient has ever smoked, the lifestyle, diet and fitness level of the patient, as well as age, sex and family traits.
Read the full study in the January issue of Journal of Oncology Practice.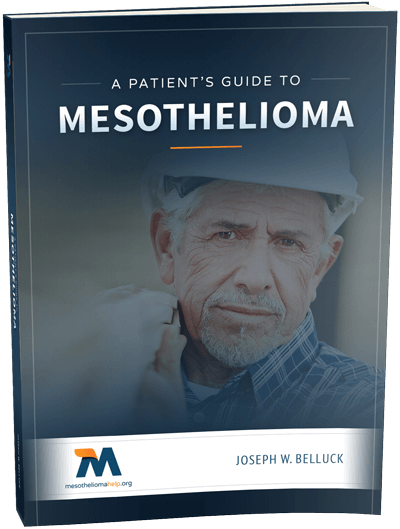 Free Mesothelioma Patient & Treatment Guide
We'd like to offer you our in-depth guide, "A Patient's Guide to Mesothelioma," absolutely free of charge.
It contains a wealth of information and resources to help you better understand the condition, choose (and afford) appropriate treatment, and exercise your legal right to compensation.
Download Now