Mesothelioma Community Excited About First-Ever Gene Therapy Approval From FDA
In July, MesotheliomaHelp reported on the pending approval of two different types of gene therapy for treating cancer and inherited diseases. Last week, the U.S. Food and Drug Administration announced approval of one of the therapies in a landmark approval of the first-ever gene therapy for a type of leukemia. The mesothelioma community is hopeful that this approval will lead to a new treatment for the incurable cancer.
In an August 30 press release, the FDA announced  its "historic action" with the approval of Kymriah (tisagenlecleucel), from Novartis Pharmaceuticals Corp., for the treatment of a form of acute lymphoblastic leukemia (ALL). The press release conveyed an air of excitement in announcing that the first gene therapy approval in the United States is "ushering in a new approach to the treatment of cancer and other serious and life-threatening diseases."
"We're entering a new frontier in medical innovation with the ability to reprogram a patient's own cells to attack a deadly cancer," said FDA Commissioner Scott Gottlieb, M.D. "New technologies such as gene and cell therapies hold out the potential to transform medicine and create an inflection point in our ability to treat and even cure many intractable illnesses."
The FDA explains how the new therapy will work:
"Each dose of Kymriah is a customized treatment created using an individual patient's own T-cells, a type of white blood cell known as a lymphocyte. The patient's T-cells are collected and sent to a manufacturing center where they are genetically modified to include a new gene that contains a specific protein (a chimeric antigen receptor or CAR) that directs the T-cells to target and kill leukemia cells that have a specific antigen (CD19) on the surface. Once the cells are modified, they are infused back into the patient to kill the cancer cells."
Known as CAR-T, the new therapy is a process that genetically alters a patient's own cells to fight cancer. Mesothelioma medical professionals hold out hope that ultimately this gene therapy could ultimately bring an effective treatment to mesothelioma patients.
Expert Insight
Francis S. Collins, M.D., Ph.D., Dir. NIH
"I'm eager to see where our immunotherapy researchers take us next!"
In a 2013 article for MesotheliomaHelp, Ricki Lewis, a science writer with a PhD in genetics, wrote about CAR-T treatment saying, "An ingenious technique that has vanquished leukemia in a handful of patients is also being applied to mesothelioma." She was referring to a mesothelioma clinical trial from the University of Pennsylvania that uses the "doctored T cells," known as chimeric immune receptor (CIR) instead of CAR, against mesothelin, a protein that is found to be in excess in mesothelioma and other cancers. The idea is that T cells led to the mesothelioma cells will attract an immune response, said Lewis.
Find out more about the mesothelioma clinical trial from University of Pennsylvania here.
Although the Director of the National Institutes of Health, Francis S. Collins, M.D., Ph.D., heralds immunotherapy as "one of the most exciting areas of progress" in cancer treatment, he notes caution should be taken in the widespread use of the drug, according to an Aug. 30 NIH Director's Blog entry.
"Many questions must be addressed before we can herald immunotherapeutic approaches to cancer an unqualified success," said Collins. "There are still too many severe reactions, too many non-responses or relapses, and, potentially, a very high price tag for their widespread use, which will be truly challenging to scale up. But we're off to a promising start."
Mesothelioma is a cancer caused by past exposure to asbestos. Nearly 3,000 Americans are diagnosed with the terminal cancer each year.
Sources:
August 30 press release
https://www.fda.gov/NewsEvents/Newsroom/PressAnnouncements/ucm574058.htm
NIH Director's Blog
https://directorsblog.nih.gov/2017/08/30/fda-approves-first-car-t-cell-therapy-for-pediatric-acute-lymphoblastic-leukemia
mesothelioma clinical trial
https://clinicaltrials.gov/ct2/show/NCT01590472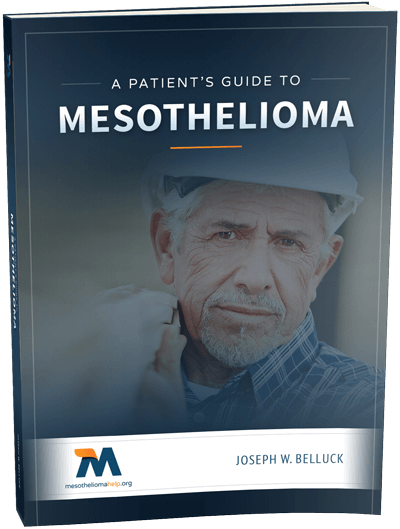 Free Mesothelioma Patient & Treatment Guide
We'd like to offer you our in-depth guide, "A Patient's Guide to Mesothelioma," absolutely free of charge.
It contains a wealth of information and resources to help you better understand the condition, choose (and afford) appropriate treatment, and exercise your legal right to compensation.
Download Now