The Faces and People Behind the Mesothelioma Statistics
When diagnosed with malignant mesothelioma, the survival statistics can be daunting to comprehend. Statistics are numbers, and it is vital that you remember that there are people behind those numbers. People with lives and families, like your own. Sometimes it is good to hear stories of people that are living with mesothelioma as part of their lives. Professionals tell us that there are survivors, but to talk to one, to see one living their best life can be very helpful for both patients and caregivers.
In the publication "Breath of Hope," by the Mesothelioma Applied Research Foundation, the cover is about two people with malignant pleural mesothelioma who have connected after both having one of their lungs removed. These two people, Heather and John, connected in 2013 on Facebook. Heather is a survivor. Diagnosed in 2005, she had surgery in 2006 in which she had a left extrapleural pneumonectomy with heated intra-op chemotherapy.
John was diagnosed in 2012, and he underwent a right extrapleural pneumonectomy after undergoing chemotherapy before the surgery. Every person's journey with mesothelioma is different, but there are similarities in the positive lessons they have taken from their experiences.
John talks about how important music has been throughout his life, and even more so now with his journey with mesothelioma. Heather was a hair professional before mesothelioma. She has been unable to go back to that line of work, and she has shifted her focus to patient advocacy.
Heather said, "I look at things far differently than I did before cancer and would say I'm a better person for it.  I've tried taking something terrible and find the good."
Both are parents of a daughter. Both have learned to savor every minute of being a parent, of being alive, and in being able to influence their daughters.
Both acknowledge that there have been times of despair. Both have had challenges along the way. Both are living their lives with mesothelioma. Both have become friends with similar interests besides mesothelioma.
Heather finishes the article saying, "…it's the people that are the silver lining in every storm."
People not statistics, stories behind the numbers, faces of survivors with malignant pleural mesothelioma sharing their journey and their lives, helping others. Living with mesothelioma.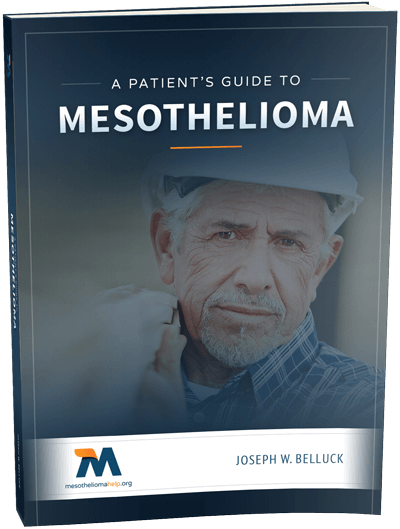 Free Mesothelioma Patient & Treatment Guide
We'd like to offer you our in-depth guide, "A Patient's Guide to Mesothelioma," absolutely free of charge.
It contains a wealth of information and resources to help you better understand the condition, choose (and afford) appropriate treatment, and exercise your legal right to compensation.
Download Now