Daughter Encourages Her Father, and Other Mesothelioma Patients, to Be Open to Help from Others
My father has been through seven months of treatment for his pleural mesothelioma: surgery, rehabilitation, chemotherapy, and radiation therapy; but now he is back to living life as normal as possible. He has returned to work and this helps him find normalcy again, for he has always been a very hard worker and does not like to be idle.
His work requires him to walk around a lot in a large warehouse. This is both good and bad. It's good that he is getting exercise to help his lungs become stronger, but he does have to take frequent breaks and sometimes use his oxygen in his office. Besides returning to work, he also does his daily, routine work around the house, such as taking care of the pool, trimming back trees, moving and stacking firewood for the woodstove, and decorating for Christmas – there really isn't much he has stopped doing since his diagnosis.
It is so great to see my dad back to his old self, but I have to remind him sometimes to ask for help. He's a man of action and wants to get things done, so he takes a lot on himself. Just over Thanksgiving, while I was home visiting for the holiday, he was getting dressed to go outside to bring in firewood. I said to him, "Dad, I hope you're not going to the back of the yard alone to get a load of firewood." His shocked response to me was, "Well yeah, why not?"
I rounded up my two brothers and we walked behind his pickup truck to help. When we got to the back of the yard, he attempted to load up the firewood to fill the bed of the truck. Well, within a few minutes he was huffing and puffing and had to take a break. I said to him, "Dad, we're here, and we can do it. You watch." I could see him struggle to take a step back and accept our help, but he listened, and my brothers and I were very happy to help.
While he was in the hospital recovering from his extrapleural pneumonectomy surgery, I wrote him a letter to encourage him and to let him know what I was feeling. One thing that I asked him to do was to please open up to us and accept help from others – he is one that never asks for help and he takes care of everyone else before himself.
I wrote:  "I have found out recently that talking about your feelings and anxieties and accepting help from others makes you feel so much better and it does not make you seem weak. It brings you closer to people. Who knows though, maybe you will return to your complete normal life, but please know that we are here for anything that you need, even if it is just making you a grilled cheese sandwich."
My message and advice to other mesothelioma patients is to accept help and to not feel ashamed about it. Your friends and family want to help you – they don't want to see you struggle. Like I said to my dad, it does not show that you are weak when you accept help, rather it brings you closer to the people who love you.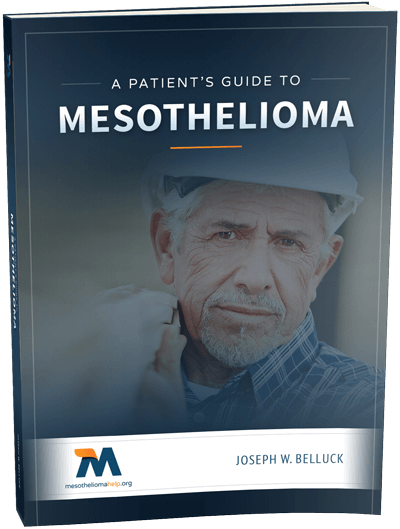 Free Mesothelioma Patient & Treatment Guide
We'd like to offer you our in-depth guide, "A Patient's Guide to Mesothelioma," absolutely free of charge.
It contains a wealth of information and resources to help you better understand the condition, choose (and afford) appropriate treatment, and exercise your legal right to compensation.
Download Now