Don Smitley's Love of Bluegrass Helped Him Forget About Mesothelioma
My Dad was a musician. He always said he "played at" the guitar, just chording, but wow, could he sing!  Music made a huge difference in Dad's life. It allowed him a sort of escape to a place where he could let go and be lost in the bluegrass music that he loved so much.
During Dad's last few months, he wasn't able to play very much as he was in and out of the hospital. The last time he went to a bluegrass event was over Labor Day weekend. He traveled by himself to meet his band mates up in the beautiful Pennsylvania mountains. I remember being so nervous about him going alone, but he assured me that he was fine. When he got home, he called and told me that he was tired, but that he had had a wonderful time. I could tell by the sound of his voice that he was beaming.
Dad and his band mates sort of became a "band of brothers," if you will. They were very close and supported Dad throughout his battle with mesothelioma. Although his voice has been silenced here on earth, it is so wonderful to have the videos and CDs of his performances. These are things that I will treasure forever.
My father always believed in making the best of every situation, and music really helped him to do that.  Singing about "Rocky Top," which he dubbed his theme song, Gospel, or other carefree subjects, made him feel better in mind, body, and soul. I was always so proud to watch him play and sing. You could tell that he was truly happy and content, as he was with everything in his life.
If I can offer one piece of advice to those suffering with mesothelioma, it would be to do what makes you happy and try to forget about the disease. Don't let mesothelioma take your happiness from you; let your happiness take away the mesothelioma.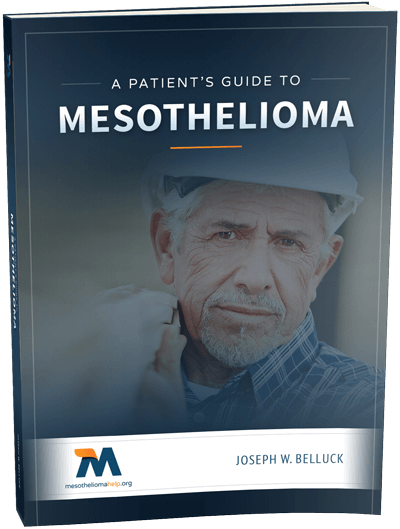 Free Mesothelioma Patient & Treatment Guide
We'd like to offer you our in-depth guide, "A Patient's Guide to Mesothelioma," absolutely free of charge.
It contains a wealth of information and resources to help you better understand the condition, choose (and afford) appropriate treatment, and exercise your legal right to compensation.
Download Now