Family Came Together to Decide on Best Mesothelioma Treatment
Jennifer's father was diagnosed with mesothelioma in January 2012. Today she reflects on those first few weeks when her family grappled with deciding the treatment plan.
Once we received Dad's diagnosis of pleural mesothelioma, we knew that some decisions needed to be made and rather quickly at that. We were originally told that the best option was to have Dad evaluated to see if he was a candidate to have his right lung completely removed.
After a couple of days, we received information about the possibility of a different surgery, a pleurectomy, in which the lining of the lung would be removed, but everything possible would be done to save the lung itself. This opportunity would require travel to New York City.  Chemotherapy was also an option.
My Dad, Mom, husband, and I wrestled with many questions as to how we should proceed. From the moment of the diagnosis, we all knew that this was not just Dad's fight. We were all in this together. We knew that we would do everything that we could to work together to give Dad the best treatment possible and would stop at nothing. Giving up was never an option.
We did know, however, that the ultimate decision would be my father's to make. We carefully weighed all the possibilities and prayed for guidance constantly. Finally, Dad decided that he would take the trip to NYC. This resulted in living there for two and a half weeks, followed by countless subsequent trips for a clinical trial and radiation which required a six week stay. Dad had the utmost confidence in his doctors and entire medical team, and so did the rest of us.
Having my family band together and rally around Dad was a great source of comfort and solace for all of us, I believe. He knew that he wasn't alone, and the rest of us knew that we could turn to one another for reassurance. It's never easy to go through tough times, but going through them with those you love the most helps to cushion the blow.
Remember, that even though you might have moments when you feel as though it's you against the world, God is always with you and is on your side. Rely on Him and pray for strength for your loved ones.
Know more about Mesothelioma and how you can deal with it.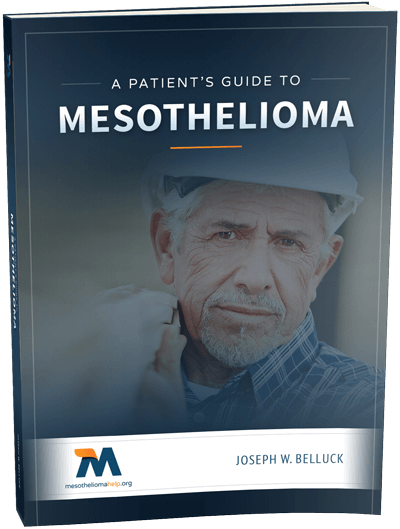 Free Mesothelioma Patient & Treatment Guide
We'd like to offer you our in-depth guide, "A Patient's Guide to Mesothelioma," absolutely free of charge.
It contains a wealth of information and resources to help you better understand the condition, choose (and afford) appropriate treatment, and exercise your legal right to compensation.
Download Now