Funding is Crucial for Mesothelioma Research Projects
The way to unlock the mysteries of diagnosing and treating mesothelioma is through research.  Research starts with an idea to be explored. While dedicated scientists have made inroads in the treatment of mesothelioma, with multi-centered clinical trials, funding continues to be an issue. In today's competitive research environment it is not enough to have a promising idea- funding must be obtained.
Dr. Ritu Gill, of Brigham and Women's Hospital, presented a poster session at the International Mesothelioma Interest Group Conference in Boston in September 2012. Her poster involved measuring the bulk of mesothelioma on CT scans, and the implications for treatment recommendations. She wanted to continue this valuable work, but she had no more funding available for the project.
At a discussion on where to go with these promising results, Mary Hesdorffer of the Mesothelioma Applied Research Foundation, approached Dr. Gill and said her foundation could help. In October 2014, at the International Mesothelioma Interest Group Conference in Cape Town South Africa, Dr. Gill again presented the findings of her research. Her and her collaborators' findings are promising in the assessment of malignant pleural mesothelioma, volume of the disease at diagnosis, as measured by CT scans, and recommending the most promising treatments for the patient.
Without the Mesothelioma Applied Research Foundation's support, this valuable research could not have taken place. The Meso Foundation provides seed money for mesothelioma research. The Meso Foundation has funded over $8.7 million in research projects across the globe.
As we look forward to the New Year, and reflect on the progress that has been made with diagnosing and treating mesothelioma, we urge you to check out the reports on the research that the Mesothelioma Applied Research Foundation has sponsored at www.curemeso.org. And, if you are looking for an organization to donate to in 2015, consider helping out the mesothelioma community.
Together we can work towards the cure in 2015.
If you have any questions about any aspect of your mesothelioma care, please email me at [email protected].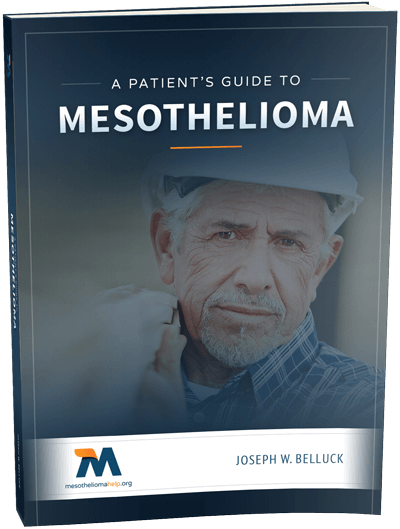 Free Mesothelioma Patient & Treatment Guide
We'd like to offer you our in-depth guide, "A Patient's Guide to Mesothelioma," absolutely free of charge.
It contains a wealth of information and resources to help you better understand the condition, choose (and afford) appropriate treatment, and exercise your legal right to compensation.
Download Now