Avera McKennan Hospital and University Health Center
With more than 300 locations in 82 communities in five states, Avera Health is the area's largest health care network. This hospital has a rich history that extends back to the late eighteenth century when Nano Nagle, a privileged Irish woman who defied the law, opened a school to help sick and poverty-stricken individuals. In 1776, she created the Religious Order of the Sisters of the Presentation of the Blessed Virgin Mary.
One hundred years later, Bishop Martin Marty reached out to the Presentation Sisters and asked them to come to Dakota Territory to teach children. So in 1880, the first group of Presentation Sisters traveled from Europe and established a convent in Fargo. Then in 1888, the Presentation Academy opened in Aberdeen. When diphtheria made its way through the town in 1900, the sisters turned part of the convent into a temporary hospital. Over time, it became St. Luke's Hospital, which started the Presentation Health System, and the sisters included healing in their mission.
After assisting in the opening of three more hospitals, the Presentation Sisters arrived in Sioux Falls. In 1911, Sister M. Agatha Collins was appointed the first superior and administrator of McKennan Hospital.
The Presentation Sisters continue their ministry by serving the community in both education and healthcare. As partners with the Benedictine sisters, they have helped make Avera Health the biggest private health care system in the Sioux Falls region. More than 600 physicians in over 60 medical specialties practice at Avera Health Center. In addition, this hospital has the only team dedicated to breast surgery and the area's only specialists in liver disease and surgery.
Get to know more about Mesothelioma Doctors & Hospitals near you.
Cancer Treatments
The Avera Cancer Institute provides high quality care with a focus on prevention and early detection. In addition, the Institute applies evidence-based therapies and a multidisciplinary approach that keeps healing the whole person in mind throughout treatment. The latest technologies in cancer care are also used to help patients overcome this disease.
The Institute's specialty physicians offer state-of-the-art treatments in the Sioux Falls area. Patients do not need to travel far to get cutting edge therapies and expert care. In addition, the Institute employs specially trained nurses who are chemotherapy-certified through the Oncology Nursing Society.  Nurses are able to perform assessments, administer therapies and educate patients and their families. Three licensed social workers are also part of the Institute's team. They teach, lead support groups, and provide individual counseling whenever necessary.
Furthermore, the Institute also has its own Transplant and Oncology Services with a team of skilled and experienced nurses. These medical professionals administer chemotherapy and are chemotherapy-certified through the Oncology Nursing Society. Fourteen of the Institute's nurses have obtained their certification in Oncology Nursing (OCN).
The Institute has a team of pharmacists as well. These experts know how to prepare chemotherapy and other types of cancer medications. Also, they provide consultation for physicians and nursing staff.
For breast health, the Avera Breast Center gives patients comprehensive care, education and support through the entire treatment and beyond. Patients can count on personalized attention from screening and diagnosis to the application of appropriate therapies.
The Center is not only focused on breast health. It is also concerned with healing the whole woman when breast cancer is present. Through education and support services, the Center works to treat the body, mind and spirit.
The interdisciplinary team takes every case seriously, discussing and exploring options in a weekly review. Opportunities to enroll in clinical trials are also evaluated for appropriate patients. The Center's interdisciplinary team includes pathologists, radiologists, surgeons, plastic surgeons, breast navigators, medical and radiation pathologists, primary care physicians, nurses and mammography technologists, social workers and breast cancer research nurses.
Malignant mesothelioma is a rare cancer that is most often found in the lining of the lung and chest cavity or the lining of the abdomen.  It can take 15 to 60 years before a person who has been exposed to asbestos to show symptoms of mesothelioma.
Avera offers cutting edge diagnosis of this disease through chest x-rays, chest CTs, cytology of pleural fluid, open lung biopsies and pleural biopsies. Treatment of mesothelioma can be difficult because symptoms are often similar to other cancers. In addition, unless the disease is found extremely early, this cancer is too advanced for surgery. Chemotherapy, radiation or a combination of techniques may help decrease the symptoms, but it may not cure the cancer.
Source: https://www.avera.org/locations/mckennan/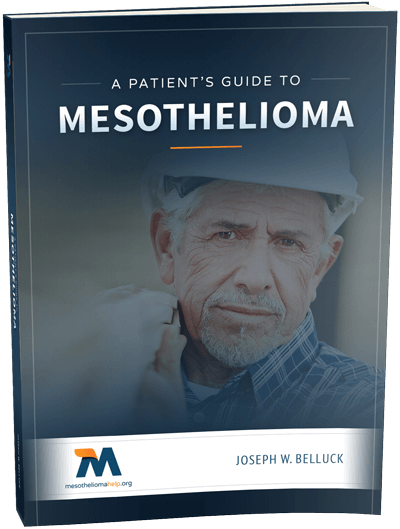 Free Mesothelioma Patient & Treatment Guide
We'd like to offer you our in-depth guide, "A Patient's Guide to Mesothelioma," absolutely free of charge.
It contains a wealth of information and resources to help you better understand the condition, choose (and afford) appropriate treatment, and exercise your legal right to compensation.
Download Now