Barbara Ann Karmanos Cancer Institute
Background
The Karmanos Cancer Institute is a state of the art medical center located in midtown Detroit. The Institute is the only hospital in Michigan that focuses solely on fighting cancer – its prevention, early detection, treatment, and cure. As such, Karmanos offers patients more than 100 cancer treatments not available in other area hospitals. The Karmanos Cancer Institute's medical and research staff includes almost 300 faculty members of Wayne State University's School of Medicine, with which the Institute partners to develop and implement new treatments for cancer patients.
The Karmanos Cancer Institute traces its roots to the Harper Hospital, founded in Detroit in 1863. From that early beginning, the cancer facility later became known as the Detroit Institute for Cancer Research, which partnered with Wayne State University's School of Medicine in 1948. The Institute soon evolved to become the Michigan Cancer Foundation, and in 1995 it took its present name as the Barbara Ann Karmanos Cancer Institute.
The Karmanos Cancer Institute enjoys recognition by the National Cancer Institute (NCI) as a comprehensive cancer center, one of only 41 such centers in the United States. The Institute also is a member of the American College of Surgeons Commission on Cancer. The Institute's focus on cancer, along with the intense commitment of its physicians and researchers, means that patients benefit from the latest research and most advanced, up-to-date methods for diagnosing, evaluating, and treating cancer. The Institute's researchers conduct hundreds of clinical trials that span basic science research, clinical research, and population research that includes both epidemiological and behavioral research programs.
Cancer Treatments
The Karmanos Cancer Institute employs a multidisciplinary team approach so that each patient benefits from the Institute's broad and deep base of medical training, treatment experience, and individual expertise. The Institute's 13 multidisciplinary team members include specialists in diagnostics; medical and surgical cancer treatments; pathology; radiology and radiation oncology; oncology nursing; and supportive care for patients and their families.
Regarding lung and chest cancers, the Karmanos Cancer Institute includes a Thoracic Oncology Multidisciplinary Team with experts devoted to fighting cancers of the chest, including lung cancer and mesothelioma. In addition to expert thoracic surgeons and surgical and medical oncologists, the team's members include radiologists and pathologists, pharmacists and dietitians, social workers, and even genetic counselors. Each member adds his or her expertise to create a collaborative, comprehensive treatment plan entirely focused on treating cancers of a patient's chest.
The Barbara Ann Karmanos Cancer Institute and the Center for Occupational and Environmental Medicine, affiliated with Wayne State University, together formed The National Center for Vermiculite and Asbestos-Related Cancers. The National Center's goals include furthering research and understanding of asbestos-related cancers, and developing and implementing a program for early detection and treatment of diseases such as mesothelioma and lung cancer.
Mesothelioma is an uncommon form of cancer that strikes the lining of the lungs, chest or abdomen. It is difficult to treat because many of its symptoms are comparable to signs consistent with other types of cancerous diseases. By the time mesothelioma is properly identified, the cancer may have progressed beyond the ability to alleviate the symptoms.
Patients who are diagnosed with mesothelioma usually have had extended exposure to hazardous airborne materials such as asbestos. It can take up to 15 or 60 years for the disease to appear, which can also make it challenging to diagnose.
However, the number of promising treatments for mesothelioma increases on a constant basis. This is because medical researchers are always learning more about how mesothelioma develops. The Barbara Ann Karmanos Cancer Institute is equipped to help patients suffering from mesothelioma. As an NCI-designated comprehensive cancer center, this institute cares for over 6,000 new patients each year and provides an estimated 400 cancer-specific research projects and clinical trials.
The institute has 15 multidisciplinary cancer treatment teams that include specialists from fields such as surgery, hematology oncology, radiation oncology, pathology, radiology, oncology nursing, supportive care, and genetics.
In addition, the institute also houses the National Center for Vermiculite and Asbestos-Related Cancers. Researchers examine the health consequences of chronic exposure to asbestos contaminated vermiculite while also implementing a program of early detection and treatment of human cancers and asbestosis. Therefore, patients who have experienced chronic exposure to asbestos can receive the latest treatments. Also, physicians can turn to this center for further education of asbestos-related diseases.
Mesothelioma specialists at Barbara Ann Karmanos Cancer Institute include Dr. Shirish M. Gadgeel and Dr. Michael Harbut.  Dr. Gadgeel is the team leader of the Thoracic Oncology Multidisciplinary Team.  He has expertise in conducting clinical trials to find new treatment options for mesothelioma.  Dr. Harbut is a world renowned expert in workplace diseases including mesothelioma.  He is the Director of The National Center for Vermiculite and Asbestos-Related Cancers.
Source: https://www.karmanos.org/home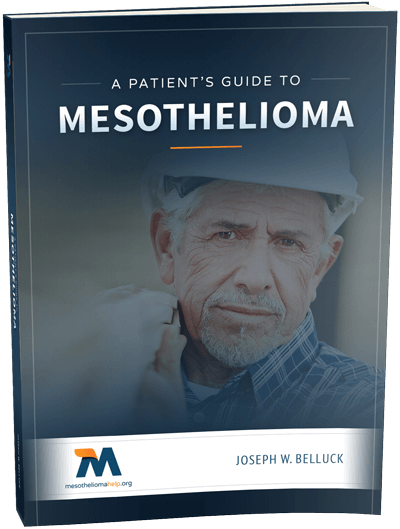 Free Mesothelioma Patient & Treatment Guide
We'd like to offer you our in-depth guide, "A Patient's Guide to Mesothelioma," absolutely free of charge.
It contains a wealth of information and resources to help you better understand the condition, choose (and afford) appropriate treatment, and exercise your legal right to compensation.
Download Now