Mayo Clinic in Rochester, Minnesota
 Background
Mayo Clinic has been serving patients for more than 100 years. Part of an integrated medical center, Mayo Clinic, Saint Marys Hospital, and Rochester Methodist Hospital are focused on providing comprehensive diagnosis and treatment in almost every medical and surgical specialty. Patient care at Mayo Clinic receives support by advanced programs in medical education and research.
The history of Mayo Clinic dates back to the medical practice of Dr. William Worrall Mayo, who settled in Rochester, Minnesota in 1863. Dr. Mayo expanded his practice to include his sons Drs. William James Mayo and Charles Horace May in 1883 and 1888 respectively.
All three doctors in this family practice were passionate about innovation. As they attracted more and more patients, they invited other doctors and basic science researchers to join them in the world's first private integrated group practice. At first, the Mayo doctors were seen as nontraditional due to their team approach. But as their methods proved to be effective, the Mayo practice's technique earned acceptance. Patients benefited from the advantages of this "pooled resource" of knowledge and skill.
Today, more than 55,000 doctors, nurses, scientists, students, and allied health staff at Mayo Clinic in Minnesota, Arizona and Florida work together to help patients overcome their medical conditions.
Cancer Treatments
With more than 400 physicians and scientists who work together to diagnose and treat cancer, the Mayo Clinic Cancer Center concentrates on understanding the biology of cancer while also finding ways to prevent, diagnose and treat this disease.
The Mayo Clinic Cancer Center is a National Cancer Institute (NCI)-designated comprehensive cancer center. It has held this title since 1973. In order to maintain this classification, the center has met strict standards that include, basic laboratory research, participation in high-priority NCI clinical studies, applied and clinical research, cancer prevention and control programs, education and training of health care professionals, public information services and community service and outreach.
Mayo Clinic is focused on converting laboratory knowledge into effective cancer remedies for patients. This clinic has 10 major cancer research programs that translate scientific discoveries that occur in the laboratory into cutting edge techniques. These research programs thrive due to the crucial infrastructure and scientific support of 15 shared resources. The resources include, bioinformatics, biospecimens accessioning and processing, biostatistics, gene analysis, microscopy and cell analysis, gene and virus therapy, pathology research and pharmacology.
Mesothelioma is an uncommon cancer that starts in the thin layer of tissue lining the chest, abdominal cavities, heart or testicles. The most frequent type of mesothelioma occurs in the tissue around the lungs (pleural mesothelioma).
This disease is caused by exposure to asbestos, which is a fiber used in a variety of products. Breathing or swallowing these airborne fibers can lead to mesothelioma. Usually, it takes 15 to 60 years for this form of cancer to develop.
Mayo Clinic is equipped to help patients who suffer from mesothelioma. Experts in pulmonary medicine, surgery, oncology, radiation oncology and pathology join forces to treat mesothelioma symptoms. The specialists at this clinic work with each patient to determine every option available and choose the best treatment plan. A wide range of techniques is on hand for each patient, including chemotherapy, radiation, and many types of surgical procedures.
In addition, the physicians at the Mayo Clinic have the latest medical technology to assist them in both diagnosis and treatment. Advanced diagnostic tests and state-of-the-art surgical methods help surgeons remove as much of the cancer as possible in order to alleviate the signs and symptoms of mesothelioma.
Mayo Clinic is active in researching mesothelioma and also takes part in national research alliances. So mesothelioma patients at Mayo Clinic can participate in clinical trials to experience the latest research.
Mayo Clinic is considered a comprehensive cancer center and adheres to the strict standards laid out by the National Cancer Institute. Also, Mayo Clinic in Rochester, Minnesota is rated among the Best Hospitals for cancer according to U.S. News and World Report.  The Mayo Clinic locations in Arizona and Florida also received high ratings for cancer by the same publication.
Get to know more doctors and hospitals that treat malignant cancers.
Source: https://www.mayoclinic.org/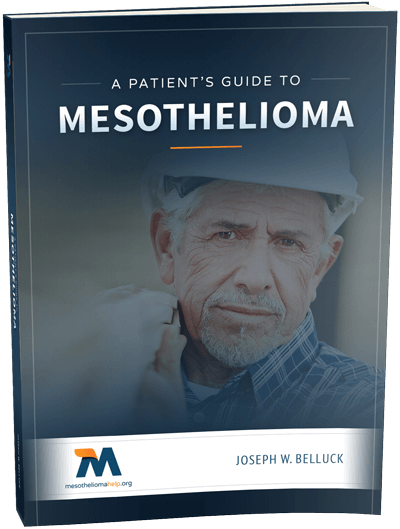 Free Mesothelioma Patient & Treatment Guide
We'd like to offer you our in-depth guide, "A Patient's Guide to Mesothelioma," absolutely free of charge.
It contains a wealth of information and resources to help you better understand the condition, choose (and afford) appropriate treatment, and exercise your legal right to compensation.
Download Now