Billings Clinic
Background
Billings Clinic, located in Billings, Montana, includes a 272-bed hospital as part of its community-owned health care system. The Billings Clinic is a multi-specialty group practice structured as a medical foundation, hosting over 300 physicians, physicians assistants, and nurse practitioners in 46 medical specialties.
Billings Clinic enjoys status as one of the newest members of the Mayo Clinic Care Network. Billings Clinic's group practice structure was inspired in part by the operational structure of the Mayo Clinic, which makes the organizations' collaboration particularly effective. Formal admission to the Mayo Clinic Care Network further cements Billings Clinic's longstanding collaborative ties to the Mayo Clinic, and it allows Billings Clinic patients to receive the benefit of the broad and deep medical knowledge and expertise available from the Mayo Clinic's renowned physicians, researchers, and scientific experts.
In its 2012 annual Best Hospitals rankings, U.S. News & World Report ranked Billings Clinic as the number one hospital facility in Montana. In addition, the Billings Clinic received high-performance recognition in four specialty areas, including pulmonology. In 2013, Billings Clinic was named a top-100 hospital in the country by Truven Health Analytics, which is the former healthcare business of Thomson Reuters.
Billings Clinic also has repeatedly earned prestigious Magnet recognition for excellence in nursing. The voluntary Magnet credentialing program reflects one of the highest honors associated with professional nursing, with less than 400 healthcare organizations having received the designation. Billings Clinic is the sole healthcare organization in Montana to attain Magnet recognition.
Billings Clinic provides treatment for cancer patients in its dedicated Cancer Center, which is part of the Billings Clinic Hospital facility in Billings.
Cancer Treatments
The Billings Clinic Cancer Center provides each patient with a multidisciplinary care team that includes physicians, oncology nurses, social workers, dietitians, genetic counselors, and a naturopathic physician. Each patient receives critical help from a patient care navigator who can assist the patient and family at all stages of diagnosis, treatment, and rehabilitation.
The Billings Clinic Cancer Center has been approved as a pilot site for the National Cancer Institute's Community Cancer Centers Program. The program provides comprehensive cancer research and care to patients close to home, including clinical research trials and custom patient therapies. The Billings Clinic Cancer Center is accredited, as well, by the American College of Surgeons' Commission on Cancer. The Cancer Center is the only site in Montana and Wyoming to have been recognized for excellence in its practices by the Quality Oncology Practice Initiative, an affiliate of the American Society of Clinical Oncology.
The Billings Clinic Cancer Center offers innovative, leading-edge treatments for patients, including robotic surgery, stereotactic radiosurgery, and stem cell transplantation, as well as traditional chemotherapy and radiation therapy. The Cancer Center participates in clinical trials, for which lung cancer patients may be eligible.
Once a patient has been diagnosed with cancer, the patient's treatment may be assigned to one of Billings Clinic Cancer Center's nine site-specific cancer programs. Among those is the Cancer Center's Lung Cancer Program/Team, which assists patients through the Billings Clinic Multidisciplinary Lung Center, a coordinated multi-specialty clinic for patients with diagnosed or suspected lung cancer. The Lung Cancer Program/Team consists of physician team leaders with expertise in lung cancer diagnosis and treatment, as well as an oncology nurse, and surgeons, pulmonologists, and medical and radiation oncologists. The Lung Cancer Program/Team is proud that their members' dedication and expertise have resulted in diagnosis of a greater percentage
Learn More about Mesothelioma Doctors & Hospitals.
Source: https://www.billingsclinic.com/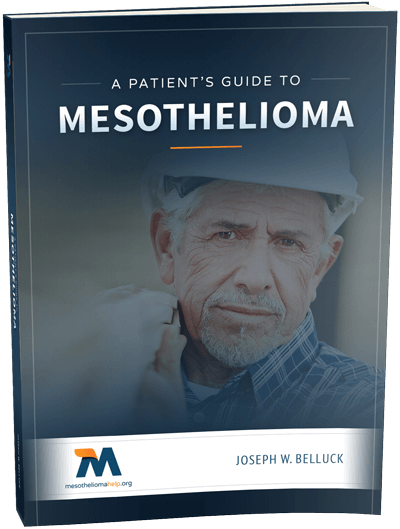 Free Mesothelioma Patient & Treatment Guide
We'd like to offer you our in-depth guide, "A Patient's Guide to Mesothelioma," absolutely free of charge.
It contains a wealth of information and resources to help you better understand the condition, choose (and afford) appropriate treatment, and exercise your legal right to compensation.
Download Now