Connecticut Vascular & Thoracic Surgical Associates
Background
Connecticut Vascular and Thoracic Surgical Associates (CVTSA) is a private medical practice specializing in vascular and thoracic surgery. For over 35 years CVTSA has administered care for arterial disease, aortic aneurysm, deep vein thrombosis, and thoracic conditions. They are specialists in minimally invasive surgery. CVTSA is affiliated with St. Vincent's Medical Center, Bridgeport Hospital, and Norwalk Hospital.
Cancer Treatments
CVTSA cardiothoracic surgeons may treat mesothelioma patients with surgical oncology techniques. Techniques include minimally invasive surgery and robotic surgery. Their services are rendered and supported at the following hospitals.
St. Vincent's Medical Center, located in Bridgeport, CT, is affiliated with MD Anderson Cancer Network, one of the top cancer research and treatment programs in the US. Patients assigned to a team of physicians, nurses, technicians, therapists, and supports staff to manage and treat their cancer.
St. Vincent's offers state of the art diagnostic imaging through its Low Dose CT Scans and Screening program for lung cancer. Lung Cancer is treated with a combination of surgical oncology, chemotherapy and radiation therapy. CVTSA surgeons work with the lung cancer clinic at St. Vincent's to provide adjuvant therapy.
At Bridgeport Hospital, Bridgeport, CT, mesothelioma treatments are administered in the Norma F. Pfriem Cancer Institute. Norma F. Pfriem Cancer Institute is affiliated with Yale New Haven Health system and mesothelioma treatments are advised in conjunction with specialists within this system. The affiliated Yale Cancer Center has extensive expertise in the multi-modal treatment of mesothelioma.
These include vaccine therapy, in vitro chemosensitivity testing, drug analysis, and combinational treatment approaches to cure cancer. Program specialties include: minimally invasive surgery, robotic surgery, stereotactic surgery, HALO ablation therapy, and a lung screening and nodule program to prevent and diagnose high risk patients. CVTSA surgeons work in conjunction with Bridgeport Hospital/Norma F. Priem Cancer Institute's mesothelioma treatment program.
Norwalk Hospital is located in Norwalk, CT and offers the only Lung Cancer Center of Excellence in New England. There are only six hospitals in the U.S. the have been awarded this distinction for quality care, state of the art treatment, patient satisfaction, and excellent staff. Each patient first receives a low-dose CT scan for precise imaging followed by an advanced tissue biopsy technique to characterize the cancer.
Treatment type will vary by each case, but multimodal therapy which uses a combination of surgical techniques, radiation therapy, and chemotherapy are used to eradicate and palliate cancer. The Lung Cancer Center of Norwalk Hospital has the capability to study each patient's DNA and create a DNA profile of his or her cancer.
James V. Lettera, MD, specializes in vascular surgery but is a trained thoracic surgeon, qualified to treat a variety of disorders and diseases including lung cancer and mesothelioma. He has been trained to perform extremely complicated surgical operations on the heart, lungs, esophagus and other organs and structures of the chest and has been practicing for more than 30 years.
Mesothelioma Doctors & Hospitals Resources Here.
Source:  www.cvtsa.net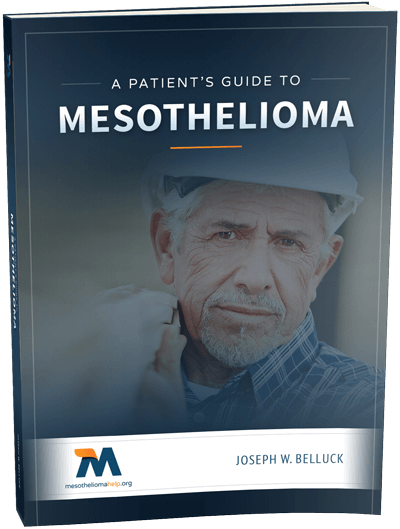 Free Mesothelioma Patient & Treatment Guide
We'd like to offer you our in-depth guide, "A Patient's Guide to Mesothelioma," absolutely free of charge.
It contains a wealth of information and resources to help you better understand the condition, choose (and afford) appropriate treatment, and exercise your legal right to compensation.
Download Now