Dana-Farber Cancer Institute
Background
Dana-Farber Cancer Institute is one of the most prestigious and highly advanced cancer care centers in the US.  As an affiliated teaching hospital of Harvard University, state-of-the-art facilities and world-class research create a dynamic atmosphere in which patients are able to receive the foremost treatments and technologies available.
Founded in 1947 by Sidney Farber, MD, the Dana-Farber Cancer Institute originally specialized in the treatment of juvenile cancer. Twenty years later, Dana-Farber expanded its treatment to patients of all ages. Since its inception, Dana-Farber has been the site of cutting-edge research, advanced training, and compassionate care. Dana-Farber Cancer Institute is a founding member of the Dana-Farber/Harvard Cancer Center, a prestigious and internationally recognized collaboration and an NCI-designated comprehensive cancer center.
Dana-Farber Cancer Institute also coordinates community-based programs throughout New England and holds affiliation with Harvard Medical School, Partners Health Care System, Brigham and Women's Hospital, Boston Children's Hospital, and Massachusetts General Hospital.
Brigham and Women's Hospital and its partnership with Dana-Farber Cancer Institute and the International Mesothelioma Program have consistently ranked among the top hospitals and cancer treatment facilities for decades. The U.S. News and World Report ranks Dana-Farber Cancer Institute as No. 5 nationally in cancer treatment.
Cancer Treatments
The Dana-Farber Cancer Institute is situated to administer the latest research developments to provide improved cancer treatment options. Brigham and Women's Cancer Center and the Dana Farber Cancer Institute created the Thoracic Cancer Treatment Center at the Lowe Center for Thoracic Oncology to create an integrated research environment that provides the collaboration of laboratory scientists and physicians within clinical, translational, and prevention research studies surrounding lung cancer.
With regard to mesothelioma, the collaboration organizes teams of highly skilled staff to facilitate treatment in partnership with the Lowe Center for Thoracic Oncology to focus on the treatment of mesothelioma through the International Mesothelioma Program (IMP). The International Mesothelioma Program treats the most mesothelioma patients in the world and is home to several of the world's foremost mesothelioma specialists. Their expertise, research, and compassionate care have made the International Mesothelioma Program a coveted location for receiving treatment.
After referral or diagnosis by a primary care physician, a team of pathologists, radiologists, surgical and medical oncologists, thoracic surgeons, nurses, pharmacists, dietitians, and social workers will handle your case together. Dana-Farber Cancer Institute and International Mesothelioma Program have extensive expertise in the multi-modal treatment of mesothelioma.
Several specific, innovative treatments are being researched, in addition to the comprehensive cancer treatments listed below. These include vaccine therapy, in vitro chemosensitivity testing, drug analysis, gene expression patterns, surgical techniques, and combinational treatment approaches to cure cancer.
Pasi A. Janne, MD, PhD, is the Scientific Director at the Belfer Institute for Applied Cancer Science and is an Associate Professor of Medicine at Harvard Medical School. He currently works in the Lowe Center for Thoracic Oncology at the Dana Farber Cancer Institute as a medical oncologist.
His extensive background in chemotherapy, pharmacological removal of lung cancer, and expertise in mesothelioma make the Dana-Farber Cancer Institute and International Mesothelioma Program an excellent location to seek high quality care and expertise. His research interests include the impact of epidermal growth factor receptor mutations in non-small cell lung cancer, translation medicine, targeted therapies, and lung cancer.
Radiation oncology, surgical oncology, clinical trials, chemotherapy, palliative care, state-of-the-art diagnostics and imaging services, pathology, genetic counseling, hormone therapy, biological therapy, complementary and alternative medicine, nutrition and physical therapy, support groups, and comprehensive and preventive care are all options in the Dana-Farber Cancer Institute's cancer treatment program.
Surgical and diagnostic innovations include pathology that is examined for gene expression patterns that lead to more effective and specialized treatment options. In-patient procedures are performed at Brigham and Women's Hospital. Thornton and Naumes House, which is located across the street from Brigham and Women's Hospital, provides housing for patients and families undergoing mesothelioma treatment.
Source: http://www.dana-farber.org/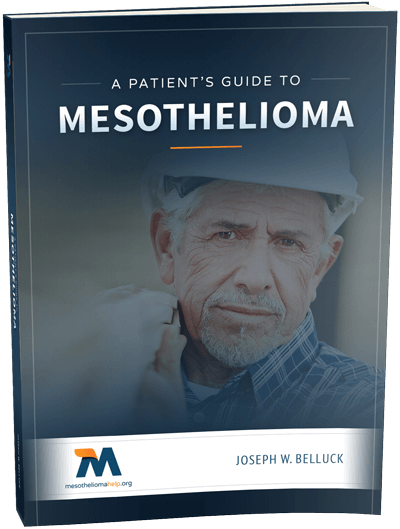 Free Mesothelioma Patient & Treatment Guide
We'd like to offer you our in-depth guide, "A Patient's Guide to Mesothelioma," absolutely free of charge.
It contains a wealth of information and resources to help you better understand the condition, choose (and afford) appropriate treatment, and exercise your legal right to compensation.
Download Now