Massachusetts General Hospital Cancer Center
At the Center for Thoracic Cancers, our multidisciplinary team of lung cancer specialists provides individualized care and compassionate support services tailored to the needs of each patient. We consider patients as well as their family and friends involved in their care to be a part of this team. Lung cancer care at Mass General combines clinical expertise, cutting-edge research, advanced medical technologies and active clinical trials to offer every patient the most appropriate therapies to treat their disease. We are dedicated to ensuring that patients fully understand their diagnosis and treatment options.
Background
Massachusetts General Hospital has enjoyed an illustrious and notable history as one of the nation's first and most prestigious hospitals. Founded in 1811, Massachusetts General Hospital has been operating continuously since 1821. Originally the affiliate teaching hospital of Harvard Medical School, Massachusetts General Hospital has been the site of many medical breakthroughs, including: surgical anesthesia, the identification of appendicitis, and the first replantation of a severed arm.
Due to its excellence and dedication to cancer care and treatment, Kurt Isselbacher, MD, established the Massachusetts General Hospital Cancer Center in 1986. Massachusetts General Hospital has a long history of cancer treatment and innovative clinical programs. In 1925, the hospital opened the country's first tumor clinic. Over the years, Massachusetts General Hospital has been the site of one of the largest hospital-based research programs in the nation. As a leader in its field, Massachusetts General Hospital was recognized in 2012 as the No. 1 hospital in the nation and No. 7 in cancer care by the U.S. News and World Report.
Massachusetts General Hospital Cancer Center is a founding member of the seven-member Harvard Medical School Consortium, an NCI-designated comprehensive cancer center in the Boston area.
Cancer Treatments
The Massachusetts General Hospital Cancer Center is situated to administer the latest research developments to provide improved cancer treatment options. Massachusetts General Hospital Cancer Center opened the Center for Thoracic Cancers to create an integrated research environment that provides the collaboration of laboratory scientists and physicians within clinical, translational, and prevention research studies surrounding lung cancer and mesothelioma. With regard to mesothelioma, the collaboration organizes teams of highly skilled staff to facilitate treatment. The Center for Thoracic Cancers is consistently ranked as one of the best programs in the country.
After referral or diagnosis by a primary care physician, a team of pathologists, radiologists, surgical and medical oncologists, thoracic surgeons, nurses, pharmacists, dietitians, respiratory therapists, and social workers will handle your case together. Massachusetts General Hospital Cancer Center has extensive expertise in the multi-modal treatment of mesothelioma. Several specific, innovative treatments are being researched, in addition to the comprehensive cancer treatments listed below. These include vaccine therapy, in vitro chemosensitivity testing, gene expression patterns, surgical techniques, and combinational treatment approaches to cure cancer.
Radiation oncology, surgical oncology, clinical trials, chemotherapy, palliative care, state-of-the-art diagnostics and imaging services, pathology, genetic counseling, hormone therapy, biological therapy, complementary and alternative medicine, nutrition and physical therapy, support groups, and comprehensive and preventive care are all options in the Massachusetts General Hospital Cancer Center's cancer treatment program.
In-patient procedures are performed at Massachusetts General Hospital Cancer Center. Adjoining the Cancer Center is the Maxwell V. Blum Cancer Resource Room, a facility that functions as a library and a comfortable and reliable location in which families and patients can access information on cancer, treatments, side-effect management, and nutrition. The HOPES Program supports patients through on-going workshops related to wellness, spiritual, and holistic subject matter. Patients and families also can benefit from the Healing Garden throughout the four seasons, both indoors and outdoors.
Search for Mesothelioma Doctors & Hospitals Near You.
Source: http://www.massgeneral.org/cancer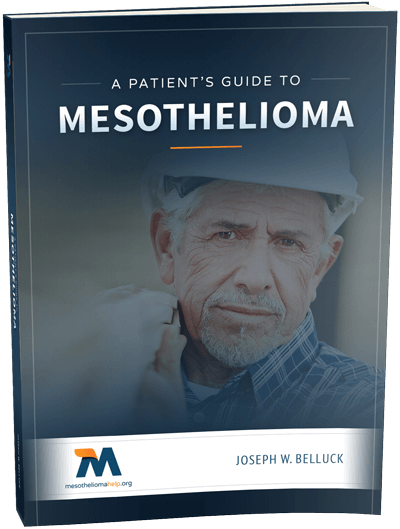 Free Mesothelioma Patient & Treatment Guide
We'd like to offer you our in-depth guide, "A Patient's Guide to Mesothelioma," absolutely free of charge.
It contains a wealth of information and resources to help you better understand the condition, choose (and afford) appropriate treatment, and exercise your legal right to compensation.
Download Now