Ellis Medicine
History of Ellis Medicine
Ellis Medicine is made of four medical centers, several laboratories and blood draw centers, primary and specialty care physicians, and a School of Nursing. Its hospitals include the former Bellevue Women's and St. Clare's Hospitals.
Ellis is dedicated to reinventing healthcare delivery, identifying new solutions that bring better patient outcomes, reducing hospital stays, and lowering costs for patients.
Ellis Medicine Cancer Services
Ellis Medicine provides cancer detection and diagnosis, treatment, and support for cancer patients. Patients receive advanced treatments and palliative care to help manage pain; care coordination to ensure they get the right care at the right time; and support services that include emotional and spiritual support.
The only musculoskeletal oncologist in the Schenectady area works with Ellis Medical. Other dedicated members of Ellis' cancer team include an oncologist, two medical oncologists (one with a hematology focus), a pathologist, a general surgeon, a radiologist, and an RN. Overall, the Ellis Medical Group includes 170 physicians and specialists.
Ellis Medicine Cancer Detection Tools
Ellis' oncology staff uses imaging, biopsy, blood testing, endoscopy, and colonoscopy to detect cancers. The facility uses the latest technologies, include 3D imaging to pinpoint tumors and spare healthy tissue. Early detection of lung cancer is key to survival; Ellis says 88 percent of patients whose lung cancer is detected during Stage I survive another 10 years or more.
Ellis physicians use an electromagnetic navigation bronchoscopy to detect suspected lung cancer sooner than other diagnostic methods. This instrument uses advanced 3D imaging and a navigator similar to a GPS that lets physicians see into the far reaches of the lungs without resorting to open chest surgery.
Ellis' MRI (magnetic resonance imaging) is among the fastest in the region and produces 2D and 3D images to diagnose cancer and help physicians plan treatment. Using PET scans, physicians can identify high glucose levels that can indicate lung cancer or cancer that has metastasized (spread).
Cancer Treatment at Ellis Medicine
If surgery is considered an option (usually to remove solid tumors), a cancer surgeon with a specialty in the organ or system being treated is called in to assist. A general surgeon, or a specialist such as a thoracic surgeon for lung cancer patients may also perform surgery.
Medical oncologists often recommend chemotherapy—treatment with medications biologic compounds like blood products and antibodies, and hormones—may be started before surgery to shrink tumors. It is often continued after surgery to kill any remaining cancer cells and tissues.
Ellis uses intensity modulated radiation therapy, or IMRT, and image-guided radiation therapy (IGRT). Together, they send targeted doses of radiation to specific tumor sites, which has been demonstrated by leading hospitals including Memorial Sloan Kettering and M.D. Anderson to reverse advanced and aggressive cancers.
Source: http://www.ellismedicine.org/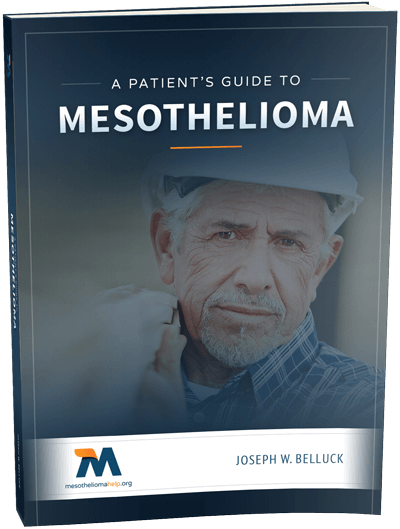 Free Mesothelioma Patient & Treatment Guide
We'd like to offer you our in-depth guide, "A Patient's Guide to Mesothelioma," absolutely free of charge.
It contains a wealth of information and resources to help you better understand the condition, choose (and afford) appropriate treatment, and exercise your legal right to compensation.
Download Now