Harold C. Simmons Comprehensive Cancer Care Center
The Harold C. Simmons Comprehensive Cancer Center is the only National Cancer Institute (NCI)-designated Cancer Center in North Texas. It's a multidisciplinary program that is focused on cancer care and research. The center conducts both treatments and research through the University of Texas Southwestern Medical Center, which was formed in 1943.
Furthermore, the center sees its mission as reducing the risk and threat of cancer in Dallas, North Texas and the United States. Cancer care programs include childhood cancerous diseases, brain and spinal cord tumors, breast cancer, gastrointestinal cancer, lung cancer, lymphoma, leukemia, myeloma, melanoma, and sarcoma.
The NCI designation means that Simmons Cancer Center is considered one of the most elite cancer institutes in the nation. This means it has received gold stars in patient care, research and education. A recent study conducted at the Dartmouth Institute for Health Policy and Clinical Practice revealed that cancer deaths are 25 percent lower at NCI-designated cancer centers.
Cancer Treatments
Nearly 200 cancer physicians and oncology-trained support staff are part of the Center's team. They remain focused on helping patients get back to good health after being stricken with a form of cancer.
With the help of top specialists, the most cutting edge technology and equipment, state-of-the-art clinics and hospitals, ground-breaking treatments and trials and a collaborative method of figuring out personalized strategies for each patient, the Center is committed to helping people overcome this disease.
In addition to superior care, creative teamwork between top researchers has resulted in scientific innovations at Simmons Cancer Center. Knowledge and technology come together in the form of clinical trials and scientific programs designed with the long-term goal of curing cancer while preventing its devastation as much as possible along the way.
Financial resources that range from private to federal funds have assisted the Center in its goals to pursue both clinical and translational research projects that are focused on cancer. In fact, the Cancer Prevention and Research Institute of Texas (CPRIT) recently awarded more than $36.7 million in new grants to researchers at UT Southwestern Medical Center to support cancer-related studies in addition to the continued recruitment of accomplished cancer investigators. Furthermore, the Center has 40 research-initiated clinical trials. This amounts to more than any other cancer center in North Texas.
The Center receives approximately 3,500 new patient visits and almost 60,000 total visits every year. Medical, surgical, radiation oncology, and other specialty care facilities are located near each other in the 30,000 square foot facility. Imaging, laboratory services, infusion, supportive services and clinical cancer genetics are also accessible as well.
The Lung Cancer Program at the Simmons Center concentrates on cancers of the lungs and chest, including mesothelioma. The Center's thoracic surgeons, radiation oncologists, social workers, nutritionists, and other specially trained experts come together in a multidisciplinary approach to give patients coordinated clinical and supportive care. In addition, team members are often involved in research projects that are designed to give patients more benefits in their treatments. Patients can also participate in many of the center's ongoing clinical trials.
This Center has distinguished itself in both developing and implementing advanced radiation treatments that include image-guided radiation therapy and stereotactic body radiation therapy. Additionally, the Lung Cancer Program is one of just seven programs to earn a National Cancer Institute Specialized Program in Research Excellence (SPORE) grant.
Mesothelioma specialists at Harold C. Simmons Comprehensive Cancer Care Center include Dr. Kemp Kernstine, the chairman of the Division of Thoracic Surgery, who has expertise in surgical evaluation and treatment of lung cancer, esophageal cancer, mesothelioma, and thymic cancers.
Source: http://www.utsouthwestern.edu/simmons/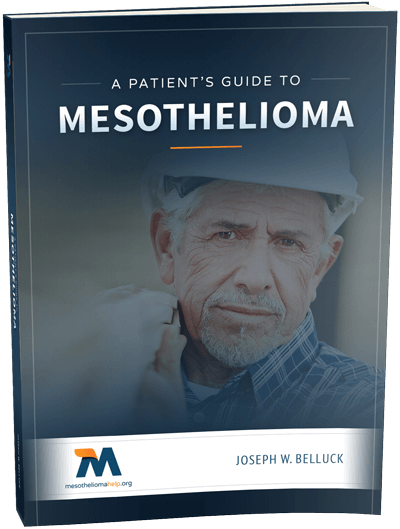 Free Mesothelioma Patient & Treatment Guide
We'd like to offer you our in-depth guide, "A Patient's Guide to Mesothelioma," absolutely free of charge.
It contains a wealth of information and resources to help you better understand the condition, choose (and afford) appropriate treatment, and exercise your legal right to compensation.
Download Now