University of Texas MD Anderson Cancer Center
Background
The University of Texas MD Anderson Cancer Center has a colorful history. It is the product of Monroe Dunaway Anderson's vision and creativity. After moving to Texas to build the largest cotton company in the world with partner and brother-in-law Will Clayton, Anderson worried that as soon as one of them died their business would go under due to hefty estate taxes. So he created a charitable organization called the MD Anderson Foundation and donated $300,000 of his own money to it. Following his death in 1939, the foundation received $19 million.
In 1941, Anderson's trustees discovered that the Texas legislature had authorized the University of Texas to build a hospital for cancer research and treatment within the state. The Anderson Foundation offered to match the legislature's $500,000 for this health center as long as it would be built in Houston and named after the charity's founder. An agreement was made to create this facility in the Texas Medical Center, which was also an Anderson Foundation project. The hospital operated from this location for 10 years, adding some war-surplus buildings in the late 1940's. In March of 1954, the center moved to its current site.
Today the Center is part of the University of Texas system and is committed to eradicating the threat of cancer. It works to integrate patient care, prevention and research while also training future medical professionals. The hospital is accredited by the Commission on Colleges of the Southern Association of Colleges and Schools, which affirms that MD Anderson is a major teaching institution.
Cancer Treatments
MD Anderson provides multidisciplinary care to patients, survivors and people who are at risk for developing cancer in their lifetimes. Through the Division of Cancer Prevention and Population Sciences at the Center, pioneering research is conducted in biologic, genetic, environmental, behavioral and social factors that influence the growth of different cancers. In addition, research is designed to understand how behavioral, surgical, medical and social interventions can help prevent or reduce the risk of getting this disease.
With help from the Duncan Family Institute for Cancer Prevention and Risk Assessment, the division is discovering promising answers through research and clinical studies to eliminate cancer's threat to the public. Patients can come to the center for risk assessments, screening exams based on genetics, age and gender and personalized risk-reduction strategies.
Since 1944, approximately 900,000 patients have come to the center for therapies, surgery, chemotherapy, radiation and proton therapy, immunotherapy or combinations of these treatments. Physicians treat cancer from a multidisciplinary approach pioneered at MD Anderson. Teams of experts converge across different disciplines to determine the best treatment for patients. Furthermore, since the center's professionals all focus exclusively on cancer, they're accomplished in treating all types of this disease, even the rarest varieties.
MD Anderson is the only National Cancer Institute (NCI)-designated cancer hospital with its own emergency center. In addition, this hospital has received other national recognition over the years. In 2011, the radiation oncology practice was accredited by the American College of Radiology and the American Society for Therapeutic Radiation and Oncology. During the previous year, MD Anderson was redesignated with Magnet Nursing Services Recognition from the American Nurses Credentialing Center. This is an honor it originally received in 2001.
MD Anderson's Thoracic Center treats more patients with mesothelioma than almost any other facility in the nation. More than 30 medical oncologists, surgeons, radiation oncologists, pulmonologists and pathologists, who are all mesothelioma experts, work closely to create the best treatment for every patient suffering from this cancer.
The researchers at MD Anderson are dedicated to finding more precise methods to diagnose mesothelioma, creating targeted radiation therapy that focuses on cancer cells and discovering innovative ways to help the body combat the disease. MD Anderson also offers the latest and least-invasive mesothelioma surgical techniques.
Clinical trials and research studies that aren't accessible at other centers can be found at MD Anderson. Furthermore, physicians who provide care to mesothelioma patients are always looking for ways to treat the whole person during this fight to erase the disease's effects.
Mesothelioma specialists at the University of Texas MD Anderson Cancer Center include Dr. Anne Tsao and Dr. David Rice. Dr. Tsao is the Director of the Mesothelioma Program/Thoracic Chemo-Radiation Program and is one of the nation's leading experts on malignant mesothelioma. She also has expertise in thoracic, head, and neck oncology. Dr. Rice is an Associate Professor in the Department of Thoracic & Cardiovascular Surgery. He is the director of the Minimally Invasive Surgery and Mesothelioma Programs.
Find more options through our database of Mesothelioma Doctors & Hospitals.
Source: http://www.mdanderson.org/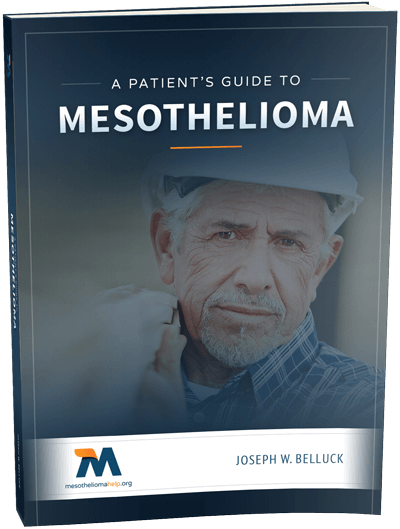 Free Mesothelioma Patient & Treatment Guide
We'd like to offer you our in-depth guide, "A Patient's Guide to Mesothelioma," absolutely free of charge.
It contains a wealth of information and resources to help you better understand the condition, choose (and afford) appropriate treatment, and exercise your legal right to compensation.
Download Now