New York-Presbyterian Hospital – Columbia University
Background
New York Hospital was established in 1771 by a charter granted by King George III of England just prior to the Revolutionary War. In 1898, the hospital became affiliated with Weill Cornell Medical College. Nearby Presbyterian Hospital was founded in 1868 by philanthropist James Lenox and became affiliated with Columbia University Medical Center upon its foundation in the 1920s.
New York Hospital and Presbyterian Hospital merged in 1998 to forge the New York-Presbyterian Hospital, which maintains its partnership with both the Weill Cornell Medical College and the Columbia University Medical Center. The NY-Presbyterian Hospital runs the NY-Presbyterian Healthcare System, which is a network of independent community hospitals. The hospital's main locations are:
New York-Presbyterian Hospital – Columbia University Medical Center
New York-Presbyterian – Weill Cornell Medical Center, Allen Hospital, Morgan Stanley Children's Hospital
New York-Presbyterian Hospital – Westchester Division
Due to its focus on patient care, basic and clinical research, prevention, education, outreach and training, the New York-Presbyterian Hospital and its partnerships with Columbia University Medical Center and Cornell University are designated as Comprehensive Cancer Centers by the National Cancer Institute.
Columbia University Medical Center was awarded NCI funding for training and research programs in cancer biology and epidemiology. The cancer center holds the title of a National Center for Multi-Scale Analysis of Genetic and Cellular networks (MAGNet), which provides funding for the study of complex gene-protein interactions that may show insights into the development and treatment of cancer.
The New York-Presbyterian Hospital's commitment to cutting-edge research and patient-centered therapies supports its ranking and accolades in the US News and World Report as the sixth best hospital in the U.S. The respiratory disorders department was ranked as the 10th best program in the U.S.
Mesothelioma Treatments
The Mesothelioma Center at New York-Presbyterian Hospital has a unique approach for the treatment of mesothelioma by combining several therapies in an effort to eradicate cancer and preserve healthy lung tissue.
The center provides efficient and individualized care with a team of elite mesothelioma specialists, radiologists, pathologists, oncologists, and thoracic surgeons.
A diagnostic evaluation is conducted with NY-Presbyterian's state-of-the-art imaging equipment. Accurate and precise diagnosis of the stage, location, and size of tumors ensures the best treatment options. A team of specialists then reviews the case to discuss and provide the best course for treatment. Treatment is combinational and will likely include any of the following: chemotherapy, radiation therapy, surgical oncology, and/or enrollment in clinical trials. Cutting-edge treatments include vaccine therapy, in vitro chemosensitivity testing, drug analysis, and combinational treatment approaches to cure cancer.
New York-Presbyterian Hospital is the only site in the U.S. that offers a multimodal approach to cancer treatment, involving chemotherapy, surgery, and radiation therapy that focuses on lung-sparing techniques. Pleural mesothelioma is treated with surgical removal and/or a dose of high-temperature chemotherapy inserted directly into the pleura through two ports. After the original surgery and chemotherapy dose, patients receive gamma interferon chemotherapy directly into the pleural lining in the comfort of an outpatient facility.
Peritoneal mesothelioma is treated by intracavitary chemotherapy that allows for high and targeted doses directly into the abdomen. It is more comfortable for the patient and reduces side effects to chemotherapy. Surgical removal and chemotherapy are combined with radiation spot treatment. One-third of all peritoneal mesothelioma patients in the U.S. receive treatment at the Mesothelioma Center at New York-Presbyterian Hospital.
New York-Presbyterian Hospital Mesothelioma Center, along with John D. Allendorf, MD, Mark E. Ginsburg, MD (Surgical Director, Center for Lung Failure), Robert N. Taub, MD, PhD (medical oncologist and Direct of the Mesothelioma Center), and Mary Louise Keohan, MD, are distinguished specialists in medical oncology and mesothelioma treatment. They operate and direct many innovative treatments, as well as pioneering a clinical protocol to treat malignant pleural mesothelioma through combinational techniques.
Specialized, patient-centered care is provided through services including genetic counseling, oncology focused physical rehabilitation, and access to a variety of clinical trials, many of which are sponsored by the National Cancer Institute and pioneered by NY-Presbyterian and the Mesothelioma Center. A team of psychologists, therapists, support groups, social services, and physical therapists supports a nurturing and healing patient experience.
Find other qualified medical professional or health care facilities near you.
Source: http://nyp.org/services/oncology/lung-cancer.html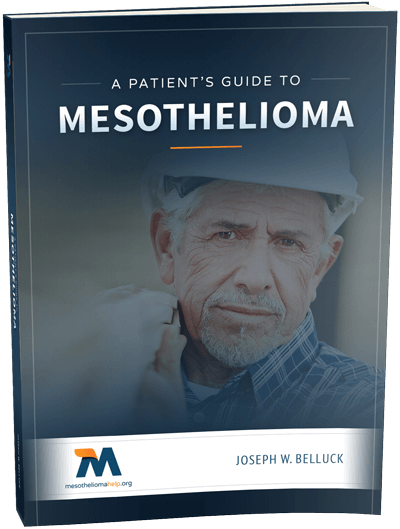 Free Mesothelioma Patient & Treatment Guide
We'd like to offer you our in-depth guide, "A Patient's Guide to Mesothelioma," absolutely free of charge.
It contains a wealth of information and resources to help you better understand the condition, choose (and afford) appropriate treatment, and exercise your legal right to compensation.
Download Now