Thompson Oncology Group
Thompson Oncology Group considers itself a survival center, dedicated to its community and committed to giving patients the most advanced care available. The patient is regarded as the central focus of every diagnosis and treatment. To accomplish its goals to help patients heal, Thompson brings together leading specialists and cutting edge technologies that serve to achieve successful therapies for a wide variety of cancers.
Cancer specialists at Thompson have a full support team of health professionals, including dieticians, genetics counselors, physicists, pharmacists, therapists, technologists, oncology nurses, social workers, and other medical staff. In addition, doctors benefit from using many therapies that have been generated within Thompson's facilities. These treatments have saved the lives of many East Tennessee cancer patients over the years.
Thompson is focused on integrating the latest treatments and developing effective therapies for people who suffer from any number of cancerous diseases. The ongoing goal is to stay equipped with the most cutting edge approaches and work to eliminate cancer in all of its forms.
With its main location in downtown Knoxville, Thompson also has facilities in West Knoxville, Oak Ridge and Sevierville. Through Thompson's outreach staff, thousands of medically needy patients have received low-cost care at the organization's various locations each year.

Cancer Treatments
Thompson Oncology Group gives patients access to chemotherapy treatments and the latest clinical trial medicines. Eight board-certified oncologists and five certified nurse practitioners deliver on-site cancer care and treatment at all of Thompson's locations.
Twenty years ago, Thompson broke new ground by being the first cancer center in East Tennessee to bring clinical trials to the region. Today Thompson still offers this important feature, which helps patients experience the latest medicines while also providing important information about the effectiveness of new drugs for the benefit of future generations. Thompson's trials include recent therapies for cancers of the brain, breast, colon, lung, kidney, gastrointestinal tract, and prostate among other forms of this disease.
Diagnosing cancer takes skill and expertise. Thompson makes sure its specialists have both of these qualities in addition to the latest advances in technological tools. That's why the Thompson Cancer Survival Center West was the first facility in the region and only the second in the world to have the LSO PET scanner. Then Thompson made history a second time by creating the next generation of PET CT scanners with the ability to find tumors faster and more accurately than any previous scanning technology.
Thompson's downtown PET Imaging Center is now using the latest PET scanner, named the Biograph 40 TruePoint PET CT scanner. This machine combines the accuracy of TruePoint with a 40-slice CT scanner in order to pinpoint abnormality locations better than ever before.
Specialized care for any type of cancer can be expensive. But Thompson feels cost shouldn't exclude cancer patients from receiving the attention they deserve. So its outreach services bring education and screening to the poor, elderly, minorities, and the high-risk working poor. Through Thompson's outreach program, thousands of free or low-cost mammograms, cervical cancer screenings, prostate cancer screenings and cancer education services are distributed to residents in Knox and 18 other counties located in East Tennessee and Southern Appalachia.
Long-term exposure to asbestos and other irritants on the job can cause mesothelioma. This is a rare cancer and is difficult to treat. But the experts at Thompson can put together a personalized plan to help each patient diagnosed with mesothelioma.
Treatment plans usually include chemotherapy to shrink the tumor prior to any surgical procedures. Most mesothelioma patients schedule treatment for mesothelioma on an outpatient basis at the hospital, the doctor's office, or at home. Patients may receive doses in pill form or via intravenous lines. These methods enable the chemotherapy to be delivered to the entire body. Chemotherapy can also be directed to a specific part of the body such as the chest or the abdomen. This cancer drug is usually given in combinations of two or more to treat mesothelioma. The length of treatment will differ depending on the type of drug the doctor prescribes. Many chemotherapy treatments require monthly doses.
Mesothelioma specialists at Thompson Oncology Group include Dr. Spence McCachren, a medical oncologist, who has expertise in treating mesothelioma.
Discover more Doctors & Hospitals that offer mesothelioma treatment.
Source: http://www.thompsoncancer.com/tog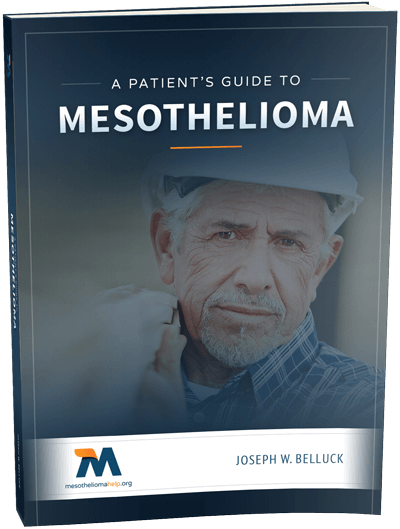 Free Mesothelioma Patient & Treatment Guide
We'd like to offer you our in-depth guide, "A Patient's Guide to Mesothelioma," absolutely free of charge.
It contains a wealth of information and resources to help you better understand the condition, choose (and afford) appropriate treatment, and exercise your legal right to compensation.
Download Now