University of Kentucky College of Medicine
Welcome to the University of Kentucky College of Medicine. We are an academic medical institution dedicated to providing superior education and training in order to produce highly qualified, caring physicians to serve the people of Kentucky and the nation.
Background
Since 1957 University of Kentucky HealthCare has provided medical, nursing, health sciences, public health and other patient services in Lexington, Kentucky and other off-site locations.
UK HealthCare employs medical experts from the school's six different colleges of Medicine, which includes Pharmacy, Nursing, Health Sciences, Dentistry and Public Health. Each medical college is designed to create advances in wellbeing and treatment of various diseases and conditions for area patients.
As an academic healthcare institution, UK HealthCare is committed to research, education and providing quality medical attention. To achieve these goals, UK HealthCare makes sure to deliver the latest advances in technology while also partnering with other hospitals in the community to create a strong network of medical expertise.
UK HealthCare facilities are widespread and include UK Chandler Hospital, Kentucky Children's Hospital, UK HealthCare East, Kentucky Clinic, Polk-Dalton Clinic and Kentucky Clinic South. Furthermore, UK HealthCare also works with 80 specialized clinics, 143 outreach programs and a team of 6,000 doctors, nurses, pharmacists, and health care professionals who are all focused on providing the best care possible to patients in Kentucky.
Cancer Treatments
The University of Kentucky HealthCare founded the Markey Cancer Center (MCC) in 1983. Previously known as the McDowell Cancer Network, the Center was formed in 1975 with a focus on community outreach and education. Now as a part of the UK Albert B. Chandler Hospital, the Markey Cancer Center provides care to patients in addition to advanced specialty services that apply clinical trials of cancer therapies.  Markey Cancer Center specialist teams work closely with UK Chandler Hospital departments to supply care and support as well as clinical trials to appropriate patients who require treatment for this disease.
The UK Chandler Hospital provides the Markey Cancer Center with all diagnostic assistance, clinical and pathology laboratories, operating rooms, emergent and intensive care and radiation therapy services that are used to treat cancer patients.
The Markey Cancer Center is also considered one of the only institutions that offers multidisciplinary care through Clinical Care and Research teams (CCARTs). These teams include breast, gynecologic, gastrointestinal, head and neck, lung and brain cancers.
The MCC is divided into four different research programs. Each one focuses on various aspects of discovering new cures and treatments for cancer, including prevention, the development of new cancer drugs and cutting edge therapeutics. Additionally, MCC is the first facility in Kentucky to be chosen by the National Cancer Institute as its Community Cancer Centers Program.
The MCC's Multidisciplinary Lung Cancer Program has oncology experts who understand lung cancers in detail. Mesothelioma is one of the specialized areas of these medical professionals.
Cardiothoracic surgery, clinical trials and genetic counseling are all offered as methods to diagnose and treat forms of mesothelioma for cancer patients. These techniques are all state-of-the-art and use the most advanced technology to obtain the best results. Specialists at MCC have extensive knowledge and experience and remain up-to-date on the latest national research studies. Therefore, MCC's specialists remain well aware of new drug programs that can help mesothelioma patients on the road to recovery.
MCC also has a Multidisciplinary Lung Cancer Program with specialized oncologists for all aspects of mesothelioma. Separate divisions within the program are set up for each type of treatment such as chemotherapy, radiation therapy, and surgery.
In order to achieve the best outcomes for mesothelioma patients, MCC uses a team approach. This means that in addition to having an assigned specialist, the patient is assisted by a primary nurse, an oncology nurse care manager, a dietician, a social worker, a pharmacist, a chaplain, a physical/enterostomal therapist and, any necessary volunteers.
Mesothelioma specialists at the hospital include Dr. Timothy W. Mullett, the Chief of the Section of General Thoracic Surgery and the Director of the Lung Transplant Program.  He is also the Surgical Director of the Multidisciplinary Lung Cancer Centers at the Veteran's Administration Medical Center and the Markey Cancer Center.  His research includes finding methods to early detect and to surgically treat lung cancer.
We can help you find the best Mesothelioma Doctors & Specialists in the USA.
Source:  http://med.uky.edu/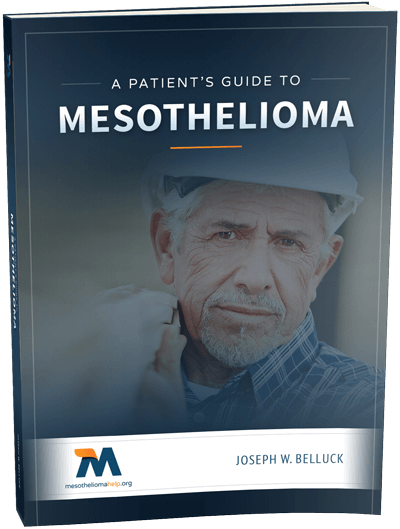 Free Mesothelioma Patient & Treatment Guide
We'd like to offer you our in-depth guide, "A Patient's Guide to Mesothelioma," absolutely free of charge.
It contains a wealth of information and resources to help you better understand the condition, choose (and afford) appropriate treatment, and exercise your legal right to compensation.
Download Now