University of Pennsylvania | Abramson Cancer Center
Background
Since 1973, the Abramson Cancer Center of the University of Pennsylvania has been recognized as a Comprehensive Care Center by the National Cancer Institute (NCI). The Center has consistently received this honor for the past 30 years.
When the Center was first established, a group of cancer specialists had the goal of offering patients the latest treatments for various forms of this disease. Today, the Center continues to follow its original mission. It has grown to encompass over 300 faculty members who are dedicated to stop cancers from developing and focused on collecting knowledge in order to create effective therapies.
In 2002, the Center was renamed the Abramson Cancer Center of the University of Pennsylvania to honor the support provided by the Leonard and Madlyn Abramson family.
The Center works closely with university departments, the health system and university leaders to reach its objectives in cancer care and research.
Cancer Treatments
The Abramson Cancer Center gives its patients cutting edge therapies that include prevention, diagnosis and treatment designed to ease the pain and suffering caused by cancer.
The clinical program at the Abramson Cancer Center revolves around pioneering approaches to treatment and quality care. Currently, the Center gets more than 90,000 outpatient visits, almost 12,000 inpatient discharges and provides over 37,000 chemotherapies and over 66,000 radiation treatments each year. Furthermore, over 400 translational and clinical scientists concentrate on discovering the mechanisms behind cancerous diseases in order to find effective remedies.
In addition to offering the most advanced cancer care and groundbreaking research, the Center is focused on cancer prevention, diagnosis and therapies to ensure patients have the best quality of life possible.
Penn Medicine's Mesothelioma and Pleural Program and the Abramson Cancer Center team up to discover effective ways to confront mesothelioma and pleural disease. Through medical, surgical and radiation oncology and pulmonology, national and international experts routinely collaborate to develop personalized strategies for each patient.
In addition to the advice and support of the physician, patients and family members receive assistance from a comprehensive health care team. These individuals include experienced nurses with advanced training in mesothelioma treatments, patient navigators to provide patients with critical information about their options, respiratory therapists, registered dieticians, counselors and speech/swallow specialists who assist patients in the physical effect from mesothelioma and its related therapies.
Mesothelioma specialists at the hospital include Dr. Steven M. Albelda and Dr. Daniel Sterman. Albelda is the Director of Lung Research and the Co-Director of the Thoracic Oncology Laboratory at the University of Pennsylvania Medical Center.  Sterman is the Clinical Director of the Thoracic Oncology Gene Therapy Program of the Center for Lung Cancer and Related Disorders.  His research interests include investigating gene therapy and vaccine therapy for lung cancer. Dr. Albelda and Dr. Daniel Sterman have worked together on several clinical trials, including a clinical trial focused on investigating immune-gene therapies for patients with mesothelioma.
Seek help from Mesothelioma Specialists & Hospitals near you.
Source: https://www.pennmedicine.org/providers/practice/abramson-cancer-center-perelman-2nd-floor?fadf=pennmedicine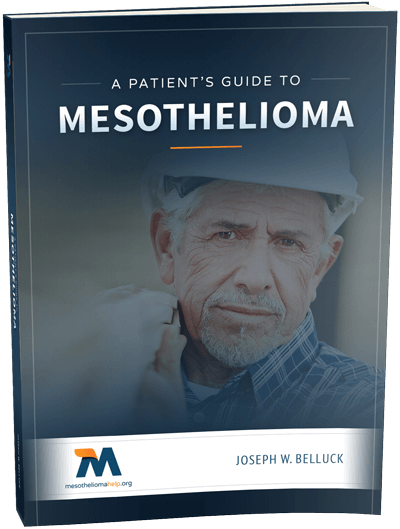 Free Mesothelioma Patient & Treatment Guide
We'd like to offer you our in-depth guide, "A Patient's Guide to Mesothelioma," absolutely free of charge.
It contains a wealth of information and resources to help you better understand the condition, choose (and afford) appropriate treatment, and exercise your legal right to compensation.
Download Now