Mesothelioma Community Eyes PD-L1 Inhibitor That Shows "Statistically Significant Survival" for Lung Cancer Patients
The mesothelioma community has been on cloud nine this year with clinical trials that have heralded good news across the globe. Immunotherapy treatments have moved into the spotlight, and it seems that instead of "if" the treatments become available to mesothelioma patients, it is "when." Now, one more potential immunotherapy treatment for lung cancer and mesothelioma patients is on the horizon.
Genentech, a biotechnology company focused on developing treatments for patients with serious or life-threatening medical conditions, and a member of the Roche group, reported in a Sept. 26 press release that its investigational, anti-PDL1,  immunotherapy drug atezolizumab (previously known as MPDL3280A), has seen positive results in two Phase II clinical trials for non-small cell lung cancer patients (NSCLC). Atezolizumab is designed to target PD-L1 expressed on tumor cells and tumor-infiltrating immune cells and to enable the activation of T cells, according to the company.
"Results from both of our studies in non-small cell lung cancer showed that measuring PD-L1 may help identify people most likely to respond to atezolizumab, and the majority of responses continued when these data were assessed," said Sandra Horning, M.D., chief medical officer and head of Global Product Development.
Atezolizumab, an inhibitor of cell programmed death ligand 1 (PDL1), has received breakthrough designation from the U.S. Food and Drug Administration for use in the treatment of NSCLC in patients whose tumors have high expression of PDL1 and whose disease worsened during or after standard treatments.
In October, the FDA approved Keytruda for advanced NSCLC. Keytruda, marketed by Merck, is also a PD-L1 inhibitor that has been shown to be effective in controlling mesothelioma tumors in three-fourths of patients. Mavis Nye of England, a six-year mesothelioma survivor, is virtually cancer free after over one year of Keytruda treatments during a clinical trial. (Keytruda is still known as MK-3475 in the UK.) And Lou Williams of Australia who has been battling mesothelioma for over 13 years was given new life when she began Keytruda.
Breakthrough Therapy designation from the FDA is a process designed to expedite the development and review of drugs that are intended to treat a serious condition and preliminary clinical evidence indicates that the drug may demonstrate substantial improvement over available therapy on a clinically significant endpoint(s).
The two atezolizumab studies are POPLAR, a clinical trial comparing the efficacy of atezolizumab with docetaxel chemotherapy, and the BIRCH study testing the efficacy of atezolizumab in PD-L1 positive patients.
The results of the studies were reported in Vienna, Austria at the European Cancer Congress 2015 held Sept. 25 – 29.
Genentech reports the results of the POPLAR study "showed a statistically significant survival benefit compared to chemotherapy" in patients with recurrent NSCLC with medium and high levels of PD-L1. The patients lived 7.7 months longer than those who received docetaxel chemotherapy.
The company reports that in the BIRCH trial, "atezolizumab shrank tumors (objective response rate, ORR) in up to 27 percent (p=0.0001) of people whose disease had progressed on prior medicines and also expressed the highest levels of PD-L1."
"Higher PDL1 expression correlates with greater response rates and could be used to identify patient for treatment," said lead author Benjamin Besse, MD, from the Gustave Roussy Institute, Villejuif, France, during the presentation.
For the nearly 3,000 Americans diagnosed with mesothelioma each year, every breakthrough is critical. Although the scientists are not promising a cure with the new drug, patients are hopeful the drug will bring an increased survival and a nearly uninterrupted lifestyle for the patients undergoing treatment.
See the Sept. 27 MedScape article for more details on the results of the two trials.
See NCT01903993 on ClinicalTrials.gov to find out more about the POPLAR clinical trial.
https://clinicaltrials.gov/ct2/show/study/NCT01903993?term=POPLAR&rank=1#locn

See NCT02031458 on ClinicalTrials.gov to find out more about the BIRCH clinical trial.
https://clinicaltrials.gov/ct2/show/NCT02031458?term=BIRCH+MPDL3280A&rank=1

Sources:
Atezolizumab
https://www.gene.com/media/press-releases/14607/2015-09-26/two-positive-studies-of-genentechs-inves
European Cancer Congress 2015
http://www.esmo.org/Conferences/Past-Conferences/European-Cancer-Congress-2015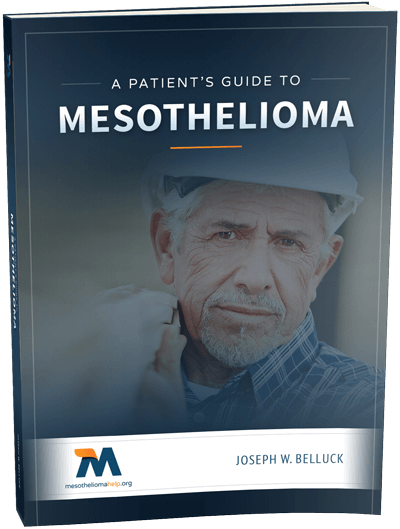 Free Mesothelioma Patient & Treatment Guide
We'd like to offer you our in-depth guide, "A Patient's Guide to Mesothelioma," absolutely free of charge.
It contains a wealth of information and resources to help you better understand the condition, choose (and afford) appropriate treatment, and exercise your legal right to compensation.
Download Now