Mesothelioma Nurses are Vigilant of Patients and Their Families
When people are diagnosed with cancer, and specifically, mesothelioma, many emotions come to the surface. Initially, a mesothelioma patient might have many decisions to make regarding treatment, chemotherapy, surgery, and/or radiation. Where to start and continue treatment can be a source of stress for some patients and families. While trying to maintain the best physical health, sometimes the patient's and the family's mental health can take a back seat.
There are more than three million cases per year of depression in the U.S. It is estimated that 25 percent of cancer victims will suffer from depression. One definition of depression is the persistent feeling of sadness and loss of interest in things that you once enjoyed. Some of the signs and symptoms to help recognize depression include: sadness, fatigue, abandoning or losing interest in hobbies or other pleasurable pastimes. Other signs include social withdrawal and isolation, weight loss or loss of appetite, sleep disturbances, loss of self-worth, increased use of alcohol or other drugs, fixation on death through suicidal thoughts or attempts.
Recently, we took care of a mesothelioma patient whose course was not smooth. He had a prolonged hospitalization, but he was eventually discharged after one month in the hospital.  Accompanying him was his wife, who suffered from depression before her husband's diagnosis.
With all the planning and travel necessary to get to our mesothelioma center, she focused on her husband and his needs, but she only brought a limited supply of her anti-depressants.  As this stressful time went on, it was apparent that she was alone, frightened, and without her medication.
Her behavior became cause for concern for all of us. She was isolating herself in her hotel room, was often angry at the staff for her husband's lack of progress, stayed in bed, and visited erratically. It was apparent that she needed help. With her cooperation and consent, her doctor was notified and arrangements were made to get her medication. Her husband was eventually discharged, and she was again able to be a loving, supportive presence to him.
Mesothelioma patients come with families, and they are a very important part of the team. In order to successfully treat the patient, a functional, supportive family is critical. We are all working towards the same goal, and sometimes we may need a little help along the way.
If you have questions about your mesothelioma treatment or any aspect of your mesothelioma care, please email me at [email protected].
Know more about Mesothelioma and how you can deal with it.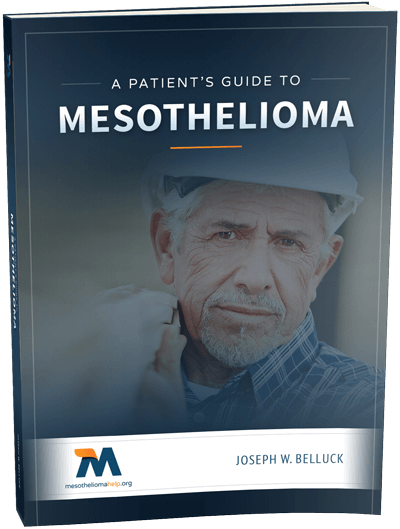 Free Mesothelioma Patient & Treatment Guide
We'd like to offer you our in-depth guide, "A Patient's Guide to Mesothelioma," absolutely free of charge.
It contains a wealth of information and resources to help you better understand the condition, choose (and afford) appropriate treatment, and exercise your legal right to compensation.
Download Now