A Month of Advocacy, Education and Support for Mesothelioma Patients and Their Families
November is filled with opportunities for mesothelioma patients and their families to raise awareness of the disease, and to educate the American public of the issues facing the mesothelioma community. Not only is November Lung Cancer Awareness Month, but it is also National Hospice and Palliative Care Month and National Family Caregivers Month.
Those who live with pleural mesothelioma, and those who care for someone with mesothelioma, know that educating the public about the struggles facing rare disease sufferers often takes a focused effort from organizations, the government, the medical community and many volunteers. Join in with the organizations sponsoring the campaigns that are dedicated to promoting awareness, honoring those dealing with terminal cancers and to increasing support for the communities.
According to the Lung Cancer Alliance, lung cancer is the deadliest cancer in the world. In fact, more people die from lung cancer than breast, colon and pancreatic cancers combined. Over 158,000 Americans die from lung cancer each year – that is approximately 432 Americans every day. Pleural mesothelioma, a rare, aggressive form of lung cancer caused by past exposure to asbestos, is one of the most difficult cancers to treat and is diagnosed in close to 3,000 Americans each year.
Many mesothelioma patients are faced with treatments aimed at managing their symptoms and improving their quality of life as the tumors continue to spread and their health declines. Doctors often order palliative care which is intended to control pain, stop bleeding, relieve pressure, and to allow patients to be at home with their loved ones.
According to the National Hospice and Palliative Care Organization (NHPCO), "every year more than 1.6 to 1.7 million Americans living with life-limiting illness, and their families, received care from the nation's hospice programs in communities throughout the United States."
With an effort to encourage citizens to increase their understanding and awareness of care at the end of life, NHPCO has declared November National Hospice and Palliative Care Month. NHPCO encourages everyone to "celebrate all that the hospice and palliative care community has achieved."
National Family Caregivers Month is also a time to recognize mesothelioma patients and their families. According to the Caregiver Action Network, more than 65 million family caregivers in this country fulfill a vital role on the care team. For mesothelioma patients, the caregivers are vital for helping them follow their medical, dietary and exercise regimens. Caregivers are called upon to deal with the myriad medical appointments, medical bills, updates to other family members and friends as well as ensuring that the household runs efficiently.
In this year's presidential proclamation recognizing November as National Family Caregivers Month President Obama declared:
"For centuries, we have been driven by the belief that we all have certain obligations to one another. Every day, caregivers across our country answer this call and lift up the lives of loved ones who need additional support. During National Family Caregivers Month, let us honor their contributions and pledge to continue working toward a future where all caregivers know the same support and understanding they show for those they look after."
This year, CAN is focusing on the theme "Respite: Care for Caregivers." The organization reports that a respite for the caregiver is not a luxury, rather "the chance to take a breather, the opportunity to re-energize." And, CAN reports, this is critical for the caregiver to protect his or her well-being.
To find out what you can do to help mesothelioma patients and their families during November visit these organizations' websites: Caregiver Action Network, Lung Cancer Alliance, National Hospice and Palliative Care Organization.
Know more about Mesothelioma and how you can deal with it.
Sources
Lung Cancer Alliance
http://www.kintera.org/faf/error/errorEvent.asp?err=c&ievent=347722&lis=1&kntae347722=B249B0A66E2742FDAC6A93B9B4BE2FD4
National Hospice and Palliative Care Organization
http://www.nhpco.org/press-room/press-releases/national-hospice-and-palliative-care-month-proclamation
Caregiver Action Network
http://caregiveraction.org
President Obama
https://obamawhitehouse.archives.gov/the-press-office/2015/10/30/presidential-proclamation-national-family-caregivers-month-2015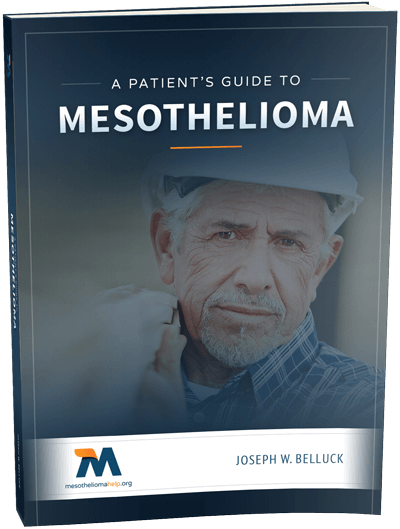 Free Mesothelioma Patient & Treatment Guide
We'd like to offer you our in-depth guide, "A Patient's Guide to Mesothelioma," absolutely free of charge.
It contains a wealth of information and resources to help you better understand the condition, choose (and afford) appropriate treatment, and exercise your legal right to compensation.
Download Now