Mesothelioma Patients May Someday Use a Pinworm Drug to Treat the Asbestos Cancer
When looking for a new, effective anti-cancer treatment, researchers often turn to drugs approved by the U.S. Food and Drug Administration for other diseases or conditions. Finding on off-label use for a drug can shorten the research time and cost to market for treatment of other diseases. Researchers are now looking at repurposing a drug approved for pinworms to treat cancer.
According to a Jan. 30 report from NPR.org, researchers at Johns Hopkins University found that mebendazole, used to treat pinworms, parasitic worms that can live in the large intestine, may be effective in fighting cancers, including brain, lung, and potentially, mesothelioma. The team found that when mice that had pinworms, and were implanted with brain cancer cells, were treated with mebendazole the cancer did not develop.
Encouraged by those results and by the fact that other researchers were conducting similar studies for lung cancer and melanoma, the researchers began two Phase I clinical trials to test the drug's safety and tolerability in brain cancer in children and adults. The drug has been well tolerated, as expected by the decades-old drug used worldwide to treat pinworms.
"Based on the preclinical studies it looks like it has promise," says Tracy Batchelor, director of the division of neuro-oncology at Massachusetts General Hospital, who is not involved in the research, according to NPR. "The next step is to look for a benefit in a Phase 2 trial."
A Phase II trial will determine whether mebendazole is effective on the cancer in people. The Johns Hopkins researchers hope to conduct that sort of trial in adult brain cancer patients.
The benefit of an FDA-approved treatment is that it has already been through clinical trials so there are few surprises for patients and physicians. Side effects are well-known and can be managed. One drug's success in one condition could lead to an equally effective drug in other diseases.
Clinical trials and the use of off-label drugs bring the best options for improved survival to pleural mesothelioma patients. The cancer that is aggressive and terminal has proven to be resistant to many cancer treatments driving researchers to continue to search for improved care.
"It's not likely that mebendazole or any other single repurposed drug is ever going to cure cancer," said Bruce Bloom, president and chief science officer of Cures Within Reach, which has helped to fund the Johns Hopkins research. However, NPR reports, there is the possibility that combinations of repurposed drugs could help in the fight against cancer. Bloom adds that results from this research is still years away.
Recent research has increased survival and quality of life for mesothelioma patients, and many hope to get to the point where mesothelioma is managed as a chronic disease.
To find clinical trials where mebendazole is being tested on cancers visit ClinicalTrials.gov.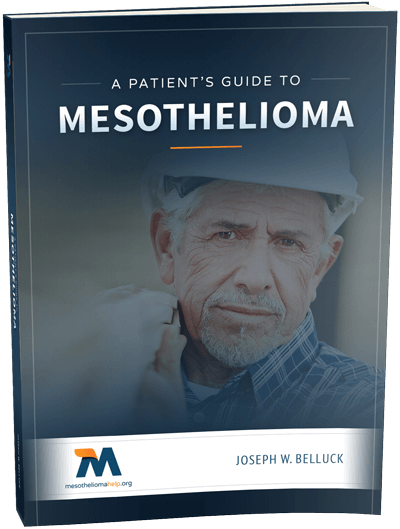 Free Mesothelioma Patient & Treatment Guide
We'd like to offer you our in-depth guide, "A Patient's Guide to Mesothelioma," absolutely free of charge.
It contains a wealth of information and resources to help you better understand the condition, choose (and afford) appropriate treatment, and exercise your legal right to compensation.
Download Now