Nurse Hopes Patients to Enjoy Long Lives
Living with mesothelioma as a chronic illness is progress for patients with this rare cancer. Mesothelioma treatment has progressed to the point that some patients are living for many years. For all in the mesothelioma community, this is gratifying. This week, I was fortunate to see a patient who has been living with mesothelioma for over six years. He is living and doing what he wants to do, enjoying life, his family and his work.
Diagnosed over six years ago, the man continues to aggressively seek treatment for his mesothelioma. Shortly after his initial diagnosis he had surgery. He had investigated his treatment options and decided to come to a mesothelioma center. His doctors back home at his local practice support him and help him manage the cancer. When the treatment does not require specialty care, his mesothelioma team at the treatment center work directly with his local care team and he is treated locally.
He has been across the country in his search for innovative new treatments for his mesothelioma. He has had recurrences and a variety of treatments. His treatments have included surgery, chemotherapy, immunotherapy and radiation therapy – IMRT. He is willing to travel wherever necessary so he can extend his life. He speaks matter-of-factly that he expects his cancer to come back, but he has the expectation that there will be another treatment available to him. He expects to recover and resume his life.
Every day he wakes up he expects to have a good day. He is educated about his disease, but he is in no way surrendering to it. He continues to reach out to other mesothelioma patients. He remains optimistic for living a long, busy life with mesothelioma as a chronic condition.
Everyone's journey with mesothelioma is their own. This patient's approach works for him, but it might not work for someone else.  As we share stories of surviving and thriving with mesothelioma we draw hope that his story will become the norm.
If you have questions about your mesothelioma treatment or any aspect of your mesothelioma care, please email me at [email protected].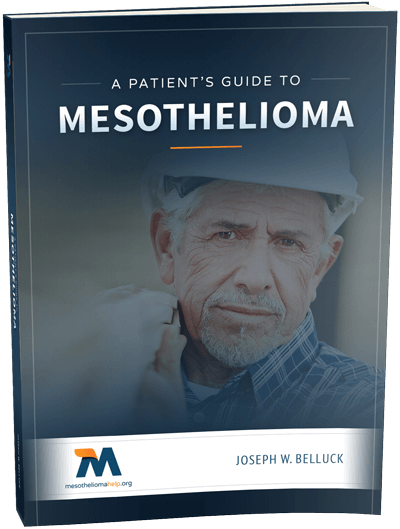 Free Mesothelioma Patient & Treatment Guide
We'd like to offer you our in-depth guide, "A Patient's Guide to Mesothelioma," absolutely free of charge.
It contains a wealth of information and resources to help you better understand the condition, choose (and afford) appropriate treatment, and exercise your legal right to compensation.
Download Now