Mesothelioma Survivor Jan Egerton Pens Book to Raise Research Funds
Mesothelioma can be an all-consuming disease. The physical and emotional toll of dealing with the symptoms, treatments and side-effects can leave those battling the cancer overwhelmed and exhausted. For many, plans are put on hold and "living for the day" becomes a mantra. Jan Egerton, a long-time mesothelioma survivor from England, lives for each day as well, but she can't stop hoping for a future that holds a cure for mesothelioma. Jan hatched a plan last year on how she could help make that a reality, and this month she published her 402-page novel and is donating a portion of the proceeds to raise funds for mesothelioma research.
Although Jan loves writing and has always wanted to write a book, she had primarily used her blog, "Mesothelioma – Jan's Journey," to fill the void. However, after one particularly contentious day at work in early May, Jan came home, sat down at the computer and created "The DreamWeaver's Choice." Jan was so focused on the story that "the words just tumbled out, and my poor fingers couldn't keep up," she said.  Three weeks later she had completed her first draft.
"Writing, regardless of whether it's fiction or mesothelioma-related helps me deal with the cancer, instead of the mesothelioma eating away at me from the inside," said Jan in an email interview last week. "Writing has given it a way to come out and keep me sane."
Writing also gave Jan an opportunity to give back to the mesothelioma community. Jan contacted Chris Knighton, founder of the Mick Knighton Mesothelioma Research Fund (MKMRF), an English organization that was established to raise awareness and fund crucial research projects for mesothelioma, to let her know that she wanted proceeds from the sale of her book to help fund research through the Mick Knighton Mesothelioma Research Fund.
For Jan's previous work with MKMRF and her continued generosity to help fund research efforts by the organization, Chris named Jan Ambassador for MKMRF.
"Jan is a source of inspiration and hope to so many people living with mesothelioma, and she has surpassed herself once again by writing a novel with the proceeds going towards the Mick Knighton Mesothelioma Research Fund," Chris told MesotheliomaHelp.org in an email.
Chris explained that an MKMRF Ambassador acknowledges the work of the Research Fund wherever and whenever possible; helps to raise its profile, and encourages fundraising to help the organization continue its work in the fields of research, support and campaigning so fewer and fewer people have to go through the pain and suffering mesothelioma brings both sufferer and their family.
"What better person could we have as an ambassador than Jan, a true mesothelioma survivor, and indeed it is us at MKMRF who are humbled and honoured to have her on board," said Chris on naming Jan ambassador.
"The DreamWeaver's Choice" is a complex story of the battle of good versus evil where the central characters are vampires and spirits, and a human detective with her beloved K-9, Bear Boy. The story moves from the 1800's, when vampires roamed the streets of England and viciously took victims, to modern day where vampires still live in England but have divided into factions of "good" vampires who live among humans without harming them, and "bad" vampires who continue to stalk and attack unsuspecting Brits.
The good vampires rely on a sophisticated set of medicines and supplies to help them function normally, but their enemies are working hard to hijack and sabotage their efforts while reaping billions of dollars by extorting the desperate vampires needing the potions to remain part of society. The players in the book have deeply intertwined lives and knowing who to trust becomes a matter of life and death.
"I only hope the book does the charity justice and raises some much needed funds," says Jan.
Jan self-published the book and is trying to promote it via word of mouth and social media. You can find information about the book at Novelist Jan and on Facebook at Bearboy Vampire Books. The book is available for Kindle at Amazon.com. USA readers can order here, UK readers can access the book here. Jan is currently working on a print version of the book.
Sources:
Facebook at Bearboy Vampire Books
http://www.facebook.com/#!/pages/Bearboy-Vampire-Books/168388509977228
Novelist Jan
http://novelistjan.blogspot.co.uk/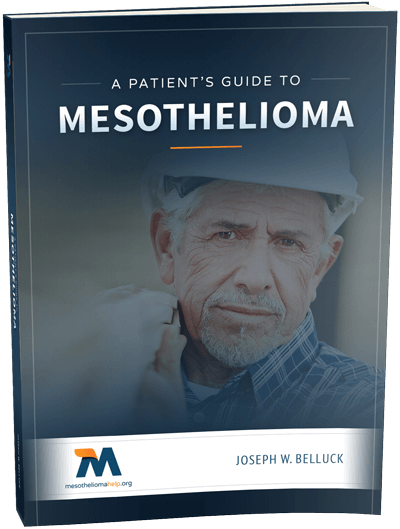 Free Mesothelioma Patient & Treatment Guide
We'd like to offer you our in-depth guide, "A Patient's Guide to Mesothelioma," absolutely free of charge.
It contains a wealth of information and resources to help you better understand the condition, choose (and afford) appropriate treatment, and exercise your legal right to compensation.
Download Now