Mesothelioma Warrior Faces Declining Health
One of the saddest things about dying from cancer is the realisation that you can see your body deteriorate. At first, especially with mesothelioma, it's that little breathlessness you never had before. That small incline at the bottom of the road was easy a few months back, now you find you need to stop to take a moment before setting off on to the flat.
In all the years I have been fighting mesothelioma, my one problem was pain, not breathlessness, until last year when I noticed I got breathless walking the dogs, always after walking up an incline.
Just this summer, with a stomach full of fluid I was still marching around. Always a fast walker, on the flat I was walking without a problem, but the stairs, on the other hand, became somewhat tiresome.
Suddenly, after having the drain fitted and taking on a chest infection my breathing plummeted – I can no longer walk five yards without being breathless. Stairs are my enemy, even walking to the kitchen and back takes all my strength. This is full on realisation that makes me worry, 'Will I always be like this?' 'Can the chemo reverse this,' and lastly, 'Is my time nearly up?'
There are some solutions to elevate the problems of mobility, such as a wheelchair for going out, a chair lift for those stairs, but mentally this doesn't remove the fears that our bodies are weakening to the effects of the cancer.
I know bowel cancer, stomach cancer and various others do bring pain, but many are towards the very end. With mesothelioma we seem to suffer from start to finish. I guess that is what makes this the worst cancer in the world to have. Unless some high powered minister or government official ever had to suffer or watch their family member go through this, they will never see or understand the complexity of what this disease does.
I hate the fact I can see the changes taking place, I can see the pain it brings in my husband's face, each time I have to ask him to help me. I am losing another piece of my own independence, and I face the fact that I am getting worse.
We are all holding out for that one drug that will help, but since the development of pemetrexed, which works on only 40% of mesothelioma, nothing better has come on the market. That drug was found by accident, maybe the next one is around the corner. But unless a significant amount of people get a benefit from a new drug the trials are scrapped. What happens to the 60% it doesn't work for?
As I now battle with the spread of my cancer to the abdomen as well as both lungs and back on my pericardium, I fear the worst. I have to believe the chemotherapy I am trying now will take me back to the health I so enjoyed in May and prior. Never again would I complain about that little bit of being out of puff, I would rather that than be in a wheelchair. Never before have I felt like an invalid, but now I need to review my life and begin a new way of normal.
To those facing this same decline we must stay focused on the fact we are still here and still able to share in the life and enjoyment of our loved ones, for it is them we keep pushing ourselves on for. I must put away my own worries about my decline so that my husband can feel he isn't helpless anymore but helping me live as full a life as normal.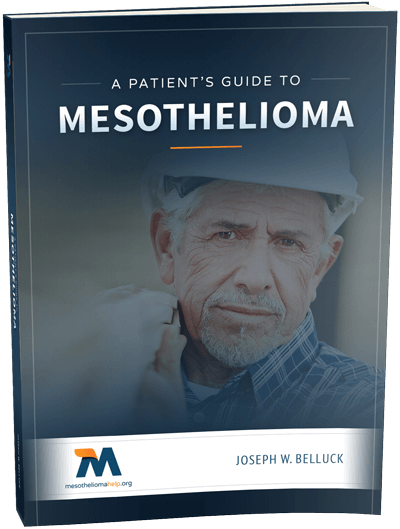 Free Mesothelioma Patient & Treatment Guide
We'd like to offer you our in-depth guide, "A Patient's Guide to Mesothelioma," absolutely free of charge.
It contains a wealth of information and resources to help you better understand the condition, choose (and afford) appropriate treatment, and exercise your legal right to compensation.
Download Now