Patient Has Lived Disease Free Since Diagnosis of Malignant Pleural Mesothelioma
Doctors in Japan describe the unusual case of a long-term mesothelioma survivor who was treated with chemotherapy and hyperthermia.
In the Dec. 28 online issue of the Journal of Medical Case Reports, doctors at Gunma University School of Medicine in Japan detail the case of a 61-year-old man who has lived disease free for seven years after being diagnosed with malignant pleural mesothelioma. Pleural mesothelioma is a cancer of the lining of the chest cavity caused by exposure to asbestos. The cancer typically has a high mortality rate.
The man was experiencing chest pain and had a history of exposure to asbestos for approximately five years. A CT scan showed a thickening of the pleural lining of his chest. It also revealed tumors had invaded the wall of patient's chest. Doctors diagnosed the patient with stage 3 malignant pleural mesothelioma based on blood test results and an examination.
The patient was eligible for surgery, but refused to undergo surgery or receive radiation treatment. So doctors administered systemic chemotherapy with hyperthermia, which the medical center used  as treatment for patients with inoperable lung cancer. The chemotherapy drugs consisted of cisplatin and irinotecan, an antitumor drug that interferes with how cancer cells multiply.
Hyperthermia is a type of cancer treatment in which body tissue is exposed to high temperatures of up to 113 degrees. According to the National Cancer Institute, high temperatures can damage and kill cancer cells, causing tumors to shrink, usually with minimal injury to normal tissues. Hyperthermia also may enhance the effectiveness of some anti-cancer drugs. It's usually used in conjunction with other cancer treatments. The patient underwent hyperthermia treatment immediately after receiving the irinotecan drugs.
A month after the first cycle of mesothelioma treatment, the patient had a follow-up CT scan which showed that the thickening of the pleural lining had disappeared. He still has some fluid in his chest cavity, which is common for mesothelioma patients. The patient underwent three sessions of hyperthermia and a single course of chemotherapy. Another CT scan six years after the end of treatment revealed no evidence of a return of the cancer.
Patients diagnosed with mesothelioma typically have a poor prognosis because of the cancer's resistance to conventional treatments. Many survive less than two years. As a result, medical researchers continue seeking more effective treatments for mesothelioma to extend the lives of patients and improve their quality of life.
The authors of the case report conclude that hyperthermia and chemotherapy may be a new and safe therapeutic option for treatment of pleural mesothelioma. They say that additional clinical studies of the combination of chemotherapy and hyperthermia are needed to further assess the effectiveness of the therapy.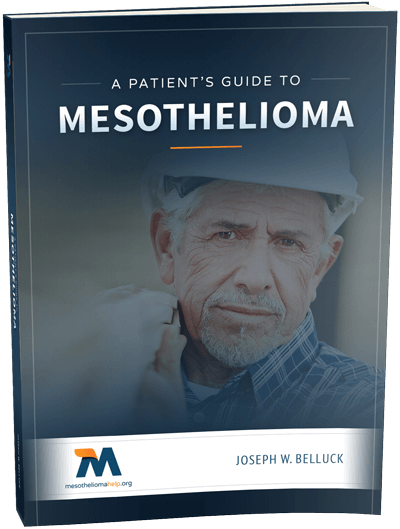 Free Mesothelioma Patient & Treatment Guide
We'd like to offer you our in-depth guide, "A Patient's Guide to Mesothelioma," absolutely free of charge.
It contains a wealth of information and resources to help you better understand the condition, choose (and afford) appropriate treatment, and exercise your legal right to compensation.
Download Now