Family Shares Approach to Fundraising for Mesothelioma Research
Many people wonder what they can do to help with mesothelioma research. The answer is simple… DONATE or FUNDRAISE!  The next question is often, "How?" That answer is also simple: Do what you can.
I have done several fundraisers over the past few months.  Some have been more lucrative than others, but all are worthwhile. For instance, I am an independent consultant for a direct selling company.  I have done two open houses and donated half of my commission to the charity of my choice, the Mesothelioma Applied Research Foundation.  That was a simple fundraiser, as I set it up as I would any open house for a customer of mine.  I invited family and friends and was able to send a nice donation both times.
Another fundraiser that we've done took a lot more time and planning.  My hometown hosts a community festival every year. We spoke with the people in charge, and did a raffle table at the event where we raffle off gift baskets, gift certificates, Broadway show tickets, and even a tree stand.  We started several months in advance, asking family members, friends and businesses if they would be interested in donating an item or items to our cause.  People were very receptive and happy to help out, and we ended up with 31 different baskets!
We sold tickets all day at the festival and were overwhelmed with how generous people were. They purchased tons of tickets and even made extra donations to help with mesothelioma research.  Everyone knew Dad's story just from living in the town (Dad knows everyone) or by seeing the story in the newspaper or on TV on the local news.  The hard work was definitely worth it.
We are currently starting to work on our next event and plan to continue our efforts.  If you are interested in doing a fundraiser, I would be happy to talk with you.  I am by no means an expert, but I've had a little experience this past year that I would be glad to share.  The Meso Foundation is an amazing organization, and I am so happy to be affiliated with them and to be able to help them by fundraising and making donations.  No donation is too small, as is no prayer!
Best of luck to you. Please know how grateful all those impacted by mesothelioma are for you and your efforts!  God bless you!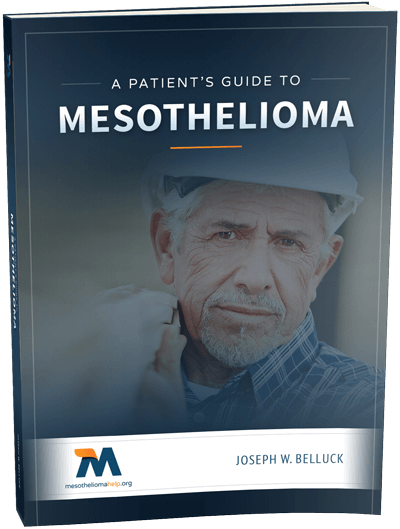 Free Mesothelioma Patient & Treatment Guide
We'd like to offer you our in-depth guide, "A Patient's Guide to Mesothelioma," absolutely free of charge.
It contains a wealth of information and resources to help you better understand the condition, choose (and afford) appropriate treatment, and exercise your legal right to compensation.
Download Now