Appreciate & Respect Your Father while He's Still Here
Last night, my husband and I were on a date…  to the grocery store. (We're quite glamorous that way!) I was walking down an aisle when I noticed a man standing in the middle of it with his cart. His daughter, who must have been in her 20s was with him, helping him choose some brownies from the shelf. I heard her say, in an angry tone, "So you like these ones!" She then noticed me, as I was waiting to go around her father, and proceeded to yell, "Dad, you're in the way!" I told him that it was no trouble, and mumbled under my breath as I passed the girl, "Don't talk to him that way." As they were leaving the aisle, I saw the gentleman looking as though he were a schoolboy who had been scolded by the teacher. As I heard her bellow, "Anything else?", tears filled my eyes.
I managed to hold it together for the remainder of our shopping, but the second we got into our vehicle, the tears started to flow. My husband looked at me, confused. I told him what I witnessed. I am a pretty non-confrontational person, but never in my life had I wanted to say something so badly; I wish she had heard my mumbled disapproval. I started to think of what I would have said if she had responded.
I knew exactly what it would have been:
"Miss, you don't know how good you have it. You don't know what you're doing. You see, I lost my Dad three years ago to an awful disease and I would give anything to have the chance to grocery shop with him. Sure, I know that things can get frustrating at times, but this man that you're here with, he matters. You might feel like you'd rather be anywhere else, but from my perspective, there's nowhere else I'd rather be right now. You're wasting a precious opportunity to make memories with your father, and you can't get these moments back."

"Look at your Dad's face. Can't you see that you're hurting him? Be patient with him. He probably looked at this outing as some great bonding time between a father and daughter, but instead, he is left with complete and utter disappointment."

"I'll pray for him tonight; I'll pray that he finds comfort. And I'll pray for you. My prayer for you, young woman who thinks you are too grown up for your Dad, is that you never have to know the kind of heartbreak and heartache that I do. I'll pray that God helps you to remember how good you do have it, and to appreciate it every day."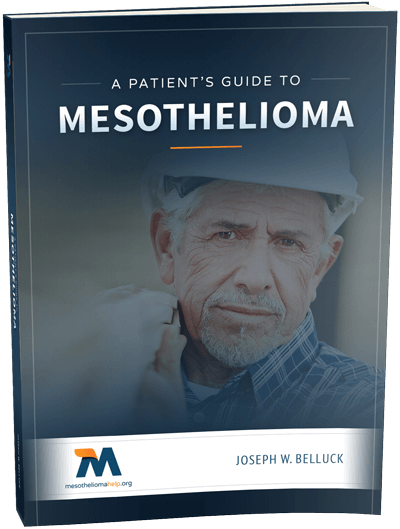 Free Mesothelioma Patient & Treatment Guide
We'd like to offer you our in-depth guide, "A Patient's Guide to Mesothelioma," absolutely free of charge.
It contains a wealth of information and resources to help you better understand the condition, choose (and afford) appropriate treatment, and exercise your legal right to compensation.
Download Now