Some Hospitalizations for Mesothelioma Patients May Be Avoidable
Nearly every mesothelioma patient will be hospitalized at some point during their care. The cancer and treatments often leave patients with debilitating symptoms that require medical intervention to help manage the issues. However, new research reports that a significant number of cancer patients' hospital visits could be avoidable.
Researchers at the University of Chicago looked at 72 terminal cancer patients' ICU admission records and found "nearly half of terminal oncology ICU hospitalizations in our study population were potentially avoidable," according to an Oct. 13 article in Oncology Practice.
http://www.mdedge.com/oncologypractice/article/115520/hospice-palliative-medicine/almost-half-terminal-cancer-patient
This "high-intensity end-of-life care," according to the colleagues, "does not improve survival or quality of life for terminal cancer patients." The researchers noted that the National Quality Forum, a non-profit organization that works to catalyze improvements in healthcare through measures and standards, referred to "ICU admissions in the last 30 days of life as a marker of poor-quality cancer care."
Mesothelioma is a rare form of cancer typically affecting the lining of the lungs. Primarily caused by exposure to airborne asbestos fibers, mesothelioma has an extended latency period – symptoms can sometimes take decades to appear. However, once symptoms become apparent, mesothelioma may rapidly progress to cause life-threatening complications. The treatment at this point is no longer curative, rather palliative, and is aimed at relieving the symptoms and improving the patient's quality of life. For many mesothelioma patients, palliative care offers them an opportunity to stay out of the hospital and spend more time with their loved ones.
Upon reviewing the data, the Chicago researchers identified the following factors associated with avoidable hospitalizations in the terminal cancer patients:
Likely to be residing in an institutional setting;
Worse performance status prior to admission;
Most recent treatment of chemotherapy;
Fewer days since diagnosis;
Cancer symptom care;
Recent palliative care consultation, potentially indicating the severity of illness.
Sadly, the researchers found that many of these patients would pass away in the ICU setting. This, they said, leaves the family with more stress. A separate UK study found that patients who die at home do so more peacefully than hospitalized patients but suffer no more than patients in a hospital. In addition, family members experience less intense grief with their loved one at home.
"ICU deaths often create a traumatic experience for patients and families," the researchers note. "Health care leaders should test strategies to prospectively identify patients at high risk for avoidable terminal hospitalizations and formulate interventions to improve end-of-life planning and care."
Many medical professionals advocate for terminal mesothelioma patients to look more closely at hospice care as their cancer becomes more aggressive and symptoms become more acute. According to the Hospice Foundation of America, hospice is designed to improve the quality of a patient's last days by offering comfort and dignity. Hospice care neither prolongs life nor hastens death, reports the organization, however, it does allow for patients to remain in their own home surrounded by their loved ones.
"This study serves to highlight terminal ICU hospitalizations as an area of focus to improve the quality and value of cancer care," concluded the researchers.
See "No Exit: Identifying Avoidable Terminal Oncology Intensive Care Unit Hospitalizations" for the full report.
http://ascopubs.org/doi/abs/10.1200/jop.2016.012823
When a mesothelioma patient no longer responds to a prescribed treatment plan, and the primary caregiver needs support caring for their loved one, turning to a hospice program is one option to explore. Visit the Hospice Foundation of America to find out more about hospice care.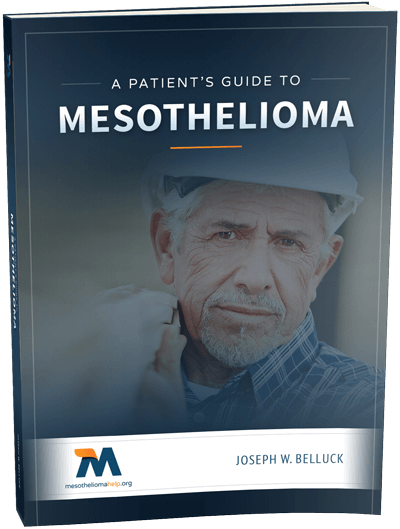 Free Mesothelioma Patient & Treatment Guide
We'd like to offer you our in-depth guide, "A Patient's Guide to Mesothelioma," absolutely free of charge.
It contains a wealth of information and resources to help you better understand the condition, choose (and afford) appropriate treatment, and exercise your legal right to compensation.
Download Now