Biomarker May Help With Diagnosis and Prognosis of Mesothelioma
The search for a reliable biomarker to help diagnose mesothelioma, serve as a prognostic indicator or even to assess the efficacy of treatment in mesothelioma patients is critical for patient survival. Recently Mesothelioma Help reported that uPAR overexpression (a protein normally found in the colon and kidneys) could help identify prognosis in mesothelioma patients and may lead to a new treatment. Now, researchers report that glycodelin could indicate improved prognosis, and could also be used to diagnose the asbestos-caused cancer.
Researchers from Germany at the University Hospital Heidelberg and the Translational Lung Research Center Heidelberg report when they measured glycodelin serum concentrations in pleural mesothelioma patients after receiving an initial treatment of chemotherapy and/or surgery and radiotherapy, the team found a "strong correlation between the serum levels and the tumor response to treatment. "Gylcodelin," according to the researchers, "seems to be a new potential biomarker for the aggressive malignant pleural mesothelioma."
The researchers then set out to assess whether glycodelin might be useful as a novel biomarker for early diagnosis of pleural mesothelioma, and found that "most patients with benign or malignant lung diseases did not show increased glycodelin serum concentrations except patients with pleural mesothelioma." This, according to the researchers, points to the potential diagnostic use of glycodelin for early detection of pleural mesothelioma.
Mesothelioma often has symptoms such as a persistent cough, shortness of breath, fatigue and wheezing, that are similar to many other respiratory illnesses. When a patient presents with these symptoms, doctors often first treat the patient for a respiratory infection before turning to testing for cancer. However, the key to increasing survival for mesothelioma and lung cancer is through early detection.
"Our data strongly suggest that glycodelin might be a feasible serum marker for the diagnosis of MPM [malignant pleural mesothelioma] and the monitoring of tumor response to treatment during the follow-up of MPM patients," concluded the researchers in the study.
Nearly 3,000 Americans are diagnosed with mesothelioma each year. There is no cure for the disease.
Find the full report in Oncotarget.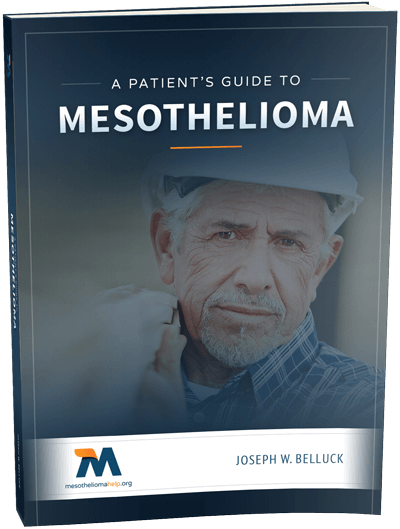 Free Mesothelioma Patient & Treatment Guide
We'd like to offer you our in-depth guide, "A Patient's Guide to Mesothelioma," absolutely free of charge.
It contains a wealth of information and resources to help you better understand the condition, choose (and afford) appropriate treatment, and exercise your legal right to compensation.
Download Now