Guidelines for Mesothelioma Treatment
The incidence of malignant mesothelioma, a respiratory cancer associated with inhaling asbestos, is expected to double in many countries in the next 20 years, according to the European Society of Medical Oncology. In the United States, approximately 2,500 to 3,000 people die of mesothelioma each year.
In an article in the July issue of the Annals of Oncology, the European Society of Medical Oncology outlines treatment guidelines for patients with mesothelioma. The clinical practice guidelines are developed by the non-profit professional organization, which promotes advances in cancer treatment and prevention, to assist doctors and patients in making decisions about appropriate health care. According to the practice guidelines:
Patients with mesothelioma often first have symptoms of shortness of breath due to excess fluid in the chest. Patients with more advanced cases may have chest pain. A chest x-ray or scan may suggest a case of mesothelioma based on thickening of the membrane lining the the lung called the pleura. Laboratory examination of chest fluid can confirm a diagnosis of mesothelioma. But the lab reports are often equivocal.
Doctors should interview the patient about their work history to try to determine if they were exposed to asbestos in their workplace, the most common cause of mesothelioma. Most cases of mesothelioma are due to occupational exposure
The gold standard for diagnosis of mesothelioma is a microscopic examination of specific antigens in a tissue biopsy obtained through a surgical procedure called a pleuroscopy. A surgical instrument is inserted into the patient's chest through an incision to collect tissue. Research studies suggest that certain proteins and oseteopontin, a human gene product, are useful indicators to support a diagnosis of mesothelioma.
After doctors confirm a diagnosis, a CT scan of the patient's chest is used to assess the advancement of the cancer. An accurate assessment of the mesothelioma's stage is essential to determine the most appropriate treatment and the patient's prognosis. Malignant pleural mesothelioma rarely spreads to distant parts of the body, but patients often have advanced localized cancer in their respiratory system when they are diagnosed.
Various surgical procedures have been used with varying degrees of success, according to the European Society of Medical Oncology. Surgery should be performed only on patients with less advanced cases of mesothelioma as part of a multi-pronged approach to treatment combined with chemotherapy and/or radiation. The use of radiation in treating mesothelioma has been limited because of the difficulty of irradiating such a large area of the body as a lung without irreparably harming the adjacent healthy lung. Still, it is used.
As far as chemotherapy, the use of combinations of cancer drugs, permetrexed and cisplatin, and to a lesser extent, raltitrexed and cisplatin, have led to improved survival results in patients as well as lung function and symptom control, compared to use of cisplatin in clinical trials. The combination of permetrexed and carboplatin is an effective alternative chemotherapy.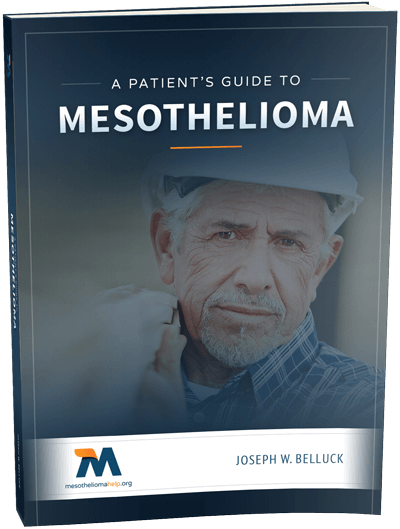 Free Mesothelioma Patient & Treatment Guide
We'd like to offer you our in-depth guide, "A Patient's Guide to Mesothelioma," absolutely free of charge.
It contains a wealth of information and resources to help you better understand the condition, choose (and afford) appropriate treatment, and exercise your legal right to compensation.
Download Now