"Lung Decision Precision" Screening Tool May Lead to Early Detection of Mesothelioma
The key to increased life expectancy when battling lung cancer, and other extremely aggressive cancers such as mesothelioma, is early detection. Unfortunately, while there are standard screening tests and guidelines for breast cancer, colon, and prostate cancer, lung cancer screening tests are limited to high risk patients, defined as life-long heavy smokers. Now, researchers have developed a personalized lung cancer screening decision tool which incorporates past asbestos exposure as a criteria to guide individuals and physicians in determining their lung cancer screening options.
Researchers from the University of Michigan have unveiled a lung cancer screening Q&A tool that can be used by medical professionals to identify people who may benefit from a low-dose computed tomography (LDCT) screening. For people who do not have any symptoms often associated with lung cancer or pleural mesothelioma, such as difficulty breathing, coughing or fatigue, there is seemingly no reason to screen for lung cancer.
That is why the personalized Lung Decision Precision tool for physicians, which presents a series of questions targeting the person's smoking history and asbestos exposure, is important. The tool is designed to open discussion between the physician and patient to determine whether a lung screening is appropriate.
"This allows us to identify which patients are in the preference-sensitive zone for the decision about screening, and which ones have a very clear potential benefit to them," said Tanner Caverly, M.D., M.P.H., an assistant professor in the Division of General Medicine and Department of Learning Health Sciences at the U-M Medical School.
The Lung Decision Precision Tool asks the critical question: "Has the patient been exposed to asbestos at work?" Based on a "yes" answer, the patient is asked to confirm the following:
You worked in one or more of the following occupations: asbestos worker, insulator, lagger, plasterboard worker, dry waller, plasterer, ship scaler, ship fitter, rigger, shipyard boilermaker, shipyard welder, shipyard machinist, shipyard coppersmith, shipyard electrician, plumber/pipefitter, steamfitter, or sheet metal worker.
You worked in this job for at least 5 years.
You began working in this job at least 15 years ago.
Asbestos is a human carcinogen, known to cause lung cancer and pleural mesothelioma, a cancer of the lining of the lungs diagnosed in nearly 3,000 Americans each year. The U.S. Environmental Protection Agency warns that there is no safe level of exposure. In addition, the Occupational Safety and Health Administration reports, "every occupational exposure to asbestos contributes to the risk of getting an asbestos related disease."
While no longer used in new buildings in the U.S., asbestos was added to a variety of products including insulation, steam pipes, furnace ducts, floor tiles and roofing shingles, in buildings and homes built prior to EPA regulations were put in place in the 1970's. People who worked in construction, ship-building, plumbing and in the military are at a higher risk than others of developing mesothelioma.
The only recommended screening test for lung cancer is LDCT, according to the Centers for Disease Control and Prevention. During an LDCT an X-ray machine scans the body and uses low doses of radiation to make detailed pictures of the lungs to help find abnormal areas that may be cancer. The American Cancer Society reports that in a study of 50,000 smokers or former smokers aged 55 to 74 researchers found that people who got LDCT had a 20% lower chance of dying from lung cancer than those who got chest x-rays.
Mesothelioma is often not diagnosed until symptoms are present, and the cancer is in its late stages. At this point, prognosis is  often less than one-year. Stopping tumor growth and preventing metastasis is especially critical for mesothelioma and lung cancer where the diseases are highly aggressive. This can only be achieved if the mesothelioma cancer is detected early.
"As a clinician I'd like to have this [tool] for many of the things I do, where it would be meaningful to know how beneficial something could be for the individual patient, and we could talk about whether it's indicated for them," said Caverly.
The research team also launched a companion website, "Should I get screened", for patients that includes easy-to-understand information about the pros and cons of lung cancer screening, and includes a "lung cancer risk calculator."
If you have been exposed to asbestos in the past, talk to your doctor about the Lung Decision Precision tool.
Find out more about the tool in the May 29 issue of Annals of Internal Medicine.
Sources:
University of Michigan
http://ihpi.umich.edu/news/scan-or-not-scan-research-shows-how-personalize-lung-cancer-screening-decisions
Annals of Internal Medicine
http://annals.org/aim/article-abstract/2682684/identifying-patients-whom-lung-cancer-screening-preference-sensitive-microsimulation-study
Lung Decision Precision tool
https://share.lungdecisionprecision.com/
Should I get screened
http://www.shouldiscreen.com/
The American Cancer Society
https://www.cancer.org/cancer/lung-cancer/prevention-and-early-detection/early-detection.html
Occupational Safety and Health Administration
https://www.osha.gov/SLTC/asbestos/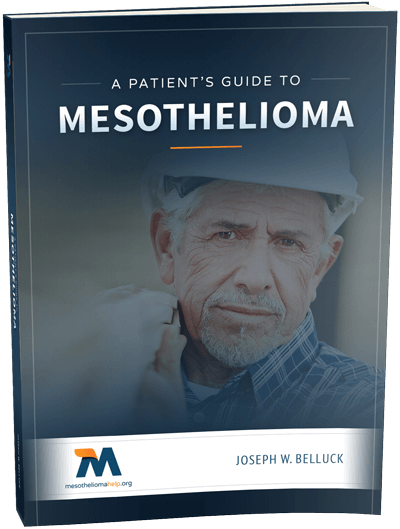 Free Mesothelioma Patient & Treatment Guide
We'd like to offer you our in-depth guide, "A Patient's Guide to Mesothelioma," absolutely free of charge.
It contains a wealth of information and resources to help you better understand the condition, choose (and afford) appropriate treatment, and exercise your legal right to compensation.
Download Now