Two-Drug Combination Found Effective in Lung Cancer May Increase Survival in Mesothelioma Patients
It has been over two years since Mesothelioma Help reported on the start of a clinical trial that used a combination of immunotherapy drugs to treat lung cancer. The trial was designed to determine whether the two drugs would work better than one in the treatment of cancer patients. Now, researchers say early results of the trial show the pair of drugs are "surprisingly effective" at controlling the progression of lung cancer.
Immunologist John Wrangle, M.D. and his colleague Mark Rubinstein, Ph.D., both from the Hollins Cancer Center at The Medical College of South Carolina (MUSC), are so excited with the results that they are "flirting with the idea" of using the word "cure" on some of the non-small cell lung cancer patients treated with the novel therapy, according to an April 5 press release.
"People don't talk about 'curing' patients with metastatic lung cancer," said Wrangle. "We now get to flirt with the idea for certain patients using immunotherapy. And at the very least we have a significant proportion of patients enjoying prolonged survival even if we can't call them 'cured'."
The researchers report that nearly every lung cancer patient will relapse after chemotherapy, and with the advent of immunotherapy, some of them will turn to it as their next mode of treatment. But still, they say, less than 20 percent of NSCLC patients will respond to immunotherapy, and it too will eventually stop working. Pleural mesothelioma is an equally stubborn cancer and treatment for the asbestos-caused cancer is very similar to NSCLC treatments. Mesothelioma patients are anxious to find a new treatment that will increase their survival beyond the typical prognosis of less than one year.
Hoping to break that poor response record, the two researchers turned to nivolumab (Opdivo), an FDA-approved immunotherapy, and ALT-803, an experimental immuno-oncology treatment. In the initial test of 21 patients, nine previously had either become resistant to their previous treatment or had stable disease at the time of the trial. Looking specifically at those nine patients, the researchers report that "100 percent either had stable disease or had a partial response to the treatment used in this study."
Opdivo, developed by Bristol-Myers Squibb, works by blocking the PD-L1 protein and activating the immune system, leading it to attack and kill cancer cells. ALT-803, being developed by Altor BioScience Corporation, is an immune stimulation drug.
"There are very few people in human history who get the privilege of developing a new therapy for any human disease, much less cancer," said Wrangle. "That's such an amazing privilege to be able to do that."
The two admit there is still a long way to go "before the new combination of drugs can be used outside of a clinical trial." They hope to treat hundreds of patients in a trial to better understand the proper mix of the drugs.
Ongoing research into lung cancer, mesothelioma and other aggressive cancers is vital to continue to break ground in treatments previously not considered. Mesothelioma patients should continue to work with their medical team to assess how they can participate in this critical research.
Read more about the study in the April 4 issue of The Lancet Oncology.
https://www.thelancet.com/journals/lanonc/article/PIIS1470-2045(18)30148-7/fulltext
For more information about the trial see ClinicalTrials.gov.
https://clinicaltrials.gov/ct2/show/NCT02523469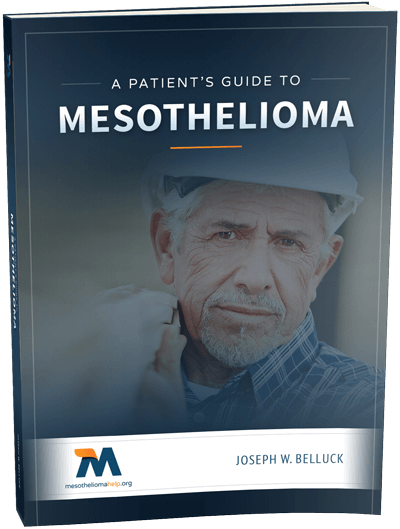 Free Mesothelioma Patient & Treatment Guide
We'd like to offer you our in-depth guide, "A Patient's Guide to Mesothelioma," absolutely free of charge.
It contains a wealth of information and resources to help you better understand the condition, choose (and afford) appropriate treatment, and exercise your legal right to compensation.
Download Now