Mavis Nye: Mesothelioma Survivor, Advocate and Author
Last week we featured Mavis Nye and her breakthrough results in a clinical trial where she received the immunotherapy drug known as Keytruda in the U.S. (The same drug that freed former U.S. president Jimmy Carter of his melanoma.) Today, read about how Mavis is making a difference for the mesothelioma community.
Mavis Nye knows what it takes to fight mesothelioma: persistence, relentlessness and thick skin. It took every one of those traits, and many more, and over six long years for her to successfully beat mesothelioma. Now, she has made it her goal in 2016 to make it a little easier for other mesothelioma warriors by intensifying her education and advocacy efforts.
Mavis was given a nearly clean bill of health in November when she was told that her formerly life-threatening mesothelioma tumors are now dormant. Finding that silver bullet was not easy, and Mavis said that she and Ray, her husband of 55 years, "hunted down information and treatments," covered hundreds of miles around the country traveling to hospitals and to conferences, and contacted nearly every mesothelioma specialist she could find to give her an opportunity to live to see another Birthday.
Mavis saw firsthand that pembrolizumab is not for everyone, but a U.S. clinical trial found the drug to be effective in controlling mesothelioma tumors in three-fourths of patients. With her own success, and the hope that others will see the same results, Mavis wants to help get the drug available to other UK mesothelioma patients.
"It's very daunting [being the first patient to achieve remission] and I feel I have to really keep fighting to get the other Mesowarriors onto the drug," says Mavis. "OK, it's not for everyone, but at least give everyone a chance."
Mavis Nye's Meso Story
In 2010, Mavis published her book, "Meso Warrior," to share her story and to "give other mesothelioma sufferers the insight that it's not all doom and gloom."
At the end of last year, she followed that up with her second book, "Five Years a Mesowarrior." In this book, Mavis takes the readers through four chemotherapy regimens and two phase one clinical trials, ending just prior to her current trial at the Royal Marsden.
"I want them to have hope," said Mavis when asked what she wants readers to get from her stories.
"I want people to see that you can live with a terminal illness and fight, but at the same time educate people about asbestos and the disease it causes."
Mavis already has another book in the works. She will publish it when the Royal Marsden trial is complete and she can freely talk about the results.
"I hope also to be proving I'm living without Mesothelioma by then."
Mavis Will Shout from the Rooftops for the Mesothelioma Community
"I have campaigned for asbestos victims, and spoke in the House of Commons of the need for more research and trials," Mavis told Mesothelioma Help of her advocacy efforts. "I have joined in with British Lung Foundation and Mesothelioma UK, and been the voice for Mesothelioma Patients."
Expert Insight
Mavis Nye
"My new year's resolution is to be an even bigger voice in 2016."
Anyone who knows how hard Mavis has worked in the past, will find it hard to envision how she will push even harder in the new year. But, those same people know that Mavis does what she says she will. Her list of support efforts continues to grow, along with the numbers of people impacted by her work.
"I will be talking at the iMIG Conference [May 1-4 in Birmingham, UK] where I will be free to talk about my success with Keytruda, and we are going to make a huge push for the next trial," says Mavis. "I will be very involved in the NHS [National Health Service, the publicly funded healthcare system for England] and my job as Patient Rep in the Local East Kent Cancer Network, and also in Research of Cancer Treatment in London and Leicester Hospitals."
Most recently, Mavis has begun her support of "men who strip out asbestos, as I feel they are working in hazardous conditions." She agreed to be Patron of the Charity for the newly established Hazmat Professionals. The official launch of the organization will be early this year.
"It was my dream to leave this legacy and I have achieved it with the backing of some lovely people," Mavis wrote in her Nov. 8 blog entry in A Dairy Of A Mesowarrior Living With Mesothelioma.
"People like myself must shout from the roof tops and be heard. I have a voice and I will use it: in my blog, my speeches, my books and Facebook!"
See last week's article of Mavis Nye's exceptional treatment results: Clinical Trial Frees Mavis Nye of Mesothelioma.
Find out more about Mavis and Ray at the following links:
A Diary Of A Mesowarrior Living With Mesothelioma
https://rayandmave.wordpress.com/2015/11/17/a-diary-of-a-mesowarrior-living-with-mesothelioma-scan-results-have-really-shocked/
Onestop Mesothelioma
http://onestopmesothelioma.co.uk/index.html
Mavis and Ray's Bookstore
http://www.lulu.com/spotlight/nyeray7070
Mavis and Ray on MesotheliomaHelp:
Clinical Trial Frees Mavis Nye of Mesothelioma
Mavis Nye Finds Her Voice and Fights for the Mesothelioma Community
Mavis donates all proceeds of her books to Mesothelioma UK to help raise funds for research. Order her books at Mavis and Ray's Bookstore.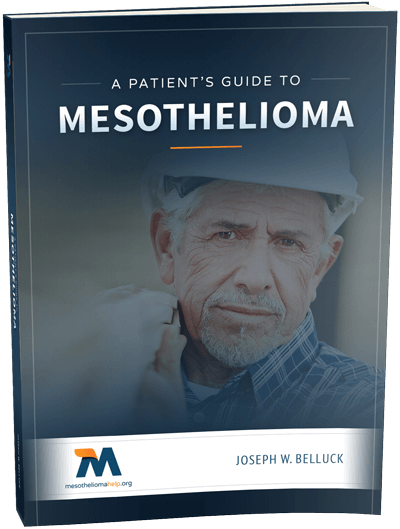 Free Mesothelioma Patient & Treatment Guide
We'd like to offer you our in-depth guide, "A Patient's Guide to Mesothelioma," absolutely free of charge.
It contains a wealth of information and resources to help you better understand the condition, choose (and afford) appropriate treatment, and exercise your legal right to compensation.
Download Now