Mesothelioma Patient on Importance of Staying Positive During Treatment
Once a person is diagnosed with malignant mesothelioma and decides on a treatment plan, the anticipation for treatment to begin – and the reality of when it does begin – can be a challenging time. 
Recently while talking with a patient, he offered his perspective on the difference between day 1 and day 2 of beginning treatment. For him, when treatment was going to be initiated, he found his mind in a unique spot. As he took in the new faces, new information, and new surroundings, new hope was born. The anticipation of the day  was finally reality, and his body and mind were going down separate paths. This experience – whether it be chemotherapy, radiation, immunotherapy or surgery – is new, a road never traveled. Although education was provided prior to his intervention it is overwhelming to say the least. This first day is like no other day of your journey. 
For this patient, the second time he had treatment it was no longer a new experience. For him, the reality of what he was going through was met with dread and fear.  The anticipation of treatment and hope was met with growing uneasiness. Familiar faces are not new and side effects are expected and can produce anxiety.  How does one deal with these days ahead, days that once provided hope and now are filled with anxiety and fear?
Wrapping your mind around the positive and trying to focus on the ultimate goal is key. These experiences are trying times and everyone masters these situations differently. Many choose to surround themselves with their most positive support team, others surround themselves with thoughts of a brighter future. Whatever way you choose is yours, and entirely up to you.
Prior to day 2 of your journey, try to  focus on the part of treatment that you found positive. Experiences like treating mesothelioma bring many new possibilities. A relationship of any kind may be positive, or a certain person may have provided a warm smile which may be all you need at that very moment. 
Perhaps writing in a journal as you travel this new path will bring peace to help when you reflect back on some of your symptoms and how they are improving. When people are facing their biggest adversities, sometimes there are strong positive ideas, relationships, or experiences that may change your perspective.
Receiving a diagnosis of mesothelioma is not like any other challenges that you may have faced. As we continue to see our waiting rooms filled with new faces, we are aware of the struggles that you are facing and are here for you. If there is something that you need or have questions about, please ask. The Mesothelioma Centers of Excellence are striving for a brighter future for all who have been affected by this disease one patient at a time.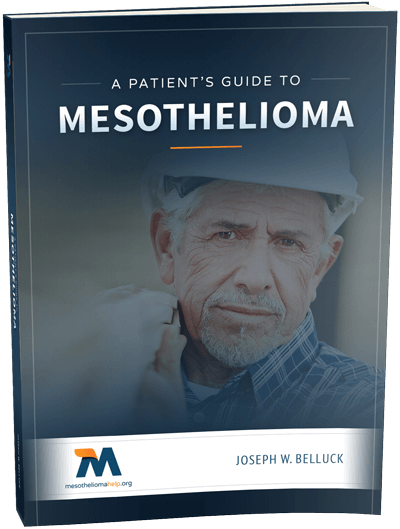 Free Mesothelioma Patient & Treatment Guide
We'd like to offer you our in-depth guide, "A Patient's Guide to Mesothelioma," absolutely free of charge.
It contains a wealth of information and resources to help you better understand the condition, choose (and afford) appropriate treatment, and exercise your legal right to compensation.
Download Now