Mesothelioma Survivor and Family on the Lookout for a Breakthrough
Lately, it seems like there has been a buzz regarding possible new treatments for mesothelioma.  This brings me even more faith that a cure is just on the horizon!  Keeping up with the newest treatments, however, is confusing and difficult at times.  Understanding the medical terminology and even the basics can be daunting and scary, but it is a gateway to hope and a cure.
Researchers have spent a great deal of time working towards the goal of curing mesothelioma permanently, and I believe that a breakthrough is on the horizon.  Some of the treatments and procedures that my Dad was blessed enough to go through were fairly new or still in the clinical trial stage.  Many of these recent developments have helped so many mesothelioma patients.
For a newly diagnosed patient, these treatments could literally be their lifeline.  In the future, mesothelioma may not be as scary as it is today!  Of course, no one wants to hear this diagnosis, but there will hopefully be a time soon when it can be said, "We can get rid of this permanently, no problem!"
We would not be where we are in the fight against mesothelioma if new, revolutionary procedures and techniques had not been conceived and brought to fruition.  These treatments are not necessarily only for the newly diagnosed, they are also for survivors.  These could be things to help prevent a recurrence, and to treat a recurrence if it were to occur.  There may be something out there that could guarantee there would never be a recurrence, or add to the survivors quality of life.  We have to be diligent to make these dreams a reality.
My Dad has been a part of new treatments, and they have been a Godsend.  With prayer, trust in God, and faith, a cure will come!  Countless people are awaiting the day when the announcement comes that a cure has been found.  My family and I are among them, waiting to celebrate!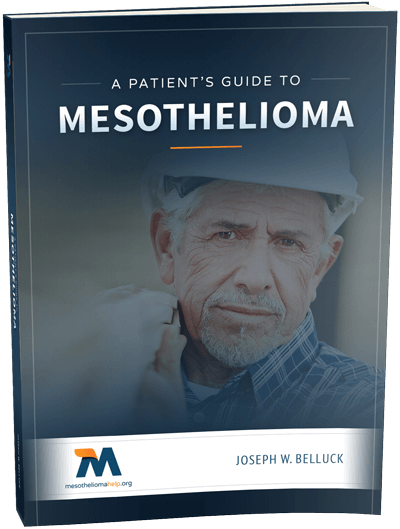 Free Mesothelioma Patient & Treatment Guide
We'd like to offer you our in-depth guide, "A Patient's Guide to Mesothelioma," absolutely free of charge.
It contains a wealth of information and resources to help you better understand the condition, choose (and afford) appropriate treatment, and exercise your legal right to compensation.
Download Now