Mesothelioma Treatment May Come From Discovery of Treatment for "Undruggable" Form Of Aggressive Lung Cancer
MesotheliomaHelp has reported many times on the challenges in treating KRAS-positive lung cancer, one of the most aggressive subtypes of lung cancer. Now, in a new study, researchers report they may have found a way to tackle lung cancer when the KRAS gene is present. This finding could also prove encouraging in the future for mesothelioma treatment.
According to an Oct. 2 press release in MIT News, a team of MIT researchers took a closer look at the Kirsten rat sarcoma virus (KRAS) and homed in on the KEAP1 mutation of KRAS, which, according to the researchers, is the third most frequently mutated gene in lung cancer. They found that in cancer where the KEAP1 gene is "nonfunctioning" cancer cells hunger for glutamine. They determined that if they could cut off the supply of glutamine to the tumors, they could treat both KRAS and KEAP1 mutations.
KRAS-mutated cancers are referred to as "undruggable" due to the inability to successfully target the protein with medicine. However, the MIT researchers began to experiment with suppressing KEAP1 which resulted in over-expression of yet another protein, NRF2, becoming hyperactive. This led them to then assess NRF2, and they determined that patients with "'up-regulated' NRF2 tumors had significantly worse survival rates" than other lung cancer patients.
Expert Insight
Tyler Jacks, MIT
"The complexity of human cancer can be quite daunting."
The team then turned back to KEAP1 and focused on its need for glutamine, finding that in lung cancer cells with loss-of function mutations for both KRAS and KEAP1 the cells were more dependent than others on increased amounts of glutamine. Using inhibitors of glutaminase, an enzyme crucial to glutamine metabolism, in these cells slowed cancer cell growth and shrunk lung cancer tumors.
The KRAS/KEAP1 mutations can occur in 17 percent of lung cancer patients, according to the researchers. Various studies have found KEAP1 mutations in malignant mesothelioma cells, with one study finding it active in seven percent of the pleural mesothelioma tissue samples.
"The genetic tools that we have assembled allow us to create models of many individual subtypes of the disease [cancer] and in this way begin to define the exploitable vulnerabilities of each," said Tyler Jacks, director of MIT's Koch Institute for Integrative Cancer Research and co-senior author of the study. "The observed sensitivity of KEAP1 mutant tumors to glutaminase inhibitors is an important example of this approach. There will be more."
The KRAS gene is also found in some pleural mesothelioma patients. Mesothelioma, a rare form of cancer caused by exposure to airborne asbestos fibers, is highly aggressive and is resistant to many current treatments. Care often follows the same protocol as lung cancer. As a result, mesothelioma patients struggling to find effective treatments for the incurable cancer stand to benefit greatly from this research.
The good news in this research is that one of the inhibitors used, CB-839,  is already in phase I clinical trials for both KEAP1-mutant and KRAS-mutant lung cancer patients. This study might help identify appropriate patients for these trials.
The American Cancer Society estimates about 222,500 new cases of lung cancer and nearly 155,870 deaths from lung cancer in the U.S. in 2017. Close to 3,000 Americans will be diagnosed with mesothelioma this year with nearly the same number dying from the terminal cancer.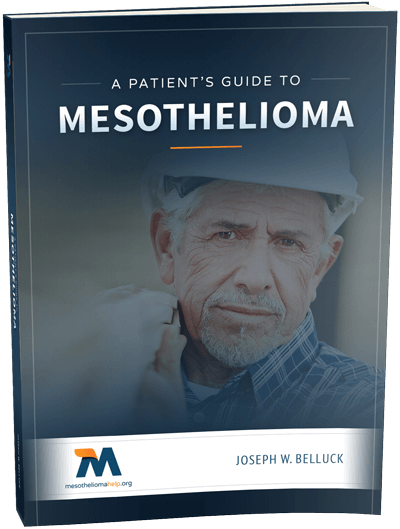 Free Mesothelioma Patient & Treatment Guide
We'd like to offer you our in-depth guide, "A Patient's Guide to Mesothelioma," absolutely free of charge.
It contains a wealth of information and resources to help you better understand the condition, choose (and afford) appropriate treatment, and exercise your legal right to compensation.
Download Now