Survivor of Royal Navy Vessel Sunk in WWII Succumbs to Mesothelioma
A former serviceman who survived the sinking of a battleship torpedoed by Germans in the Second World War recently died at his home in Berkshire, England of the asbestos-related disease mesothelioma.
Herbert Pocock was one of 1,200 crewmembers aboard the HMS Royal Oak in October 1939 when it was sunk by a German U-Boat in Scapa Flow, a harbor in the Orkney Islands, Scotland, that served as a deep water anchorage for Royal Navy ships during World War II. More than 800 men died in the nighttime attack.
One of fewer than 400 survivors of the sinking, Mr. Pocock, according to an article in the Scotsman, considered himself to be a very lucky man. But more than 75 years after he narrowly escaped with his life from the Royal Oak, it turns out that Pocock's service to his country did, in the end, cost him his life, as a coroner ruled that his death was the result of asbestos.
https://www.scotsman.com/news/scapa-flow-torpedo-survivor-killed-by-asbestos-1-3610691
Coroner Peter Bedford found in his post-mortem examination of Pocock that the former Royal Navy engineer had malignant mesothelioma on his right lung as well as asbestos fibers in his tissue.
"As soon as I hear Royal Navy and engineer, that is a known link to asbestos," Bedford told the Scotsman. "His exposure to asbestos is a result of his employment at some point in the past."
Navy Veterans Diagnosed With Mesothelioma at a High Rate
Asbestos is the only known cause of mesothelioma, a cancer that's rare in the general population but not among certain groups of workers, including Navy veterans. In fact, Military.com reports that veterans make up just 8% of the entire U.S. population but represent around one-third of all U.S. mesothelioma deaths. And among veterans, Navy veterans are the highest risk group for asbestos-related diseases.
The reason for this is that virtually all Navy ships commissioned between 1930 and 1980 contained asbestos-containing materials. In Navy vessel engine rooms and boiler rooms, asbestos was used on pumps, valves, boilers and turbines. Valves and pumps also had asbestos gaskets and packing.
If you worked aboard a Navy vessel with asbestos, particularly in the engine or boiler room, there is a very good chance that you inhaled asbestos fibers. Civilian shipyard workers who built and maintained Navy vessels may also have been exposed to asbestos. There is even a risk of exposure among the family members of Navy veterans and shipyard workers because asbestos fibers may have been carried home on clothing.
With a latency period of 15-60 years, mesothelioma is difficult to diagnose, especially because symptoms, such as chest pain and a persistent cough, can mimic those of less-severe respiratory ailments. Herbert Pocock, for example, in recent years suffered with fluid on his lungs—a symptom of mesothelioma—but a diagnosis was never made.
Contact an Experienced Mesothelioma Attorney
If you were diagnosed with mesothelioma, the law firm of Belluck & Fox, LLP, can help. We are a nationally-recognized New York law firm that represents Navy veterans and shipyard workers in cases against asbestos companies that failed to provide warning of their products' dangers. We've obtained substantial compensation for those harmed by asbestos, including a $32 million verdict for a Navy veteran.
For help with your claim, contact Belluck & Fox, LLP, today for a free consultation.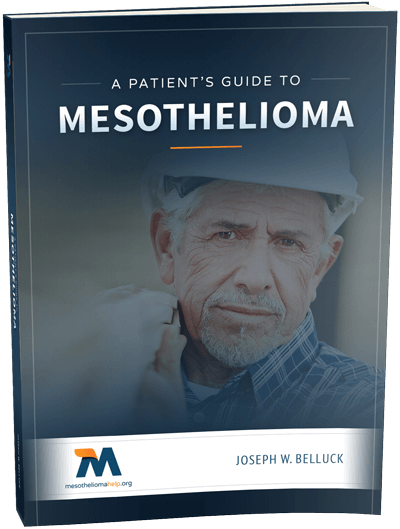 Free Mesothelioma Patient & Treatment Guide
We'd like to offer you our in-depth guide, "A Patient's Guide to Mesothelioma," absolutely free of charge.
It contains a wealth of information and resources to help you better understand the condition, choose (and afford) appropriate treatment, and exercise your legal right to compensation.
Download Now