Anti-Cancer Drug Found Effective in Rare Cancers Could Be Used as Mesothelioma Treatment
The ability to halt the growth of mesothelioma cancer cells, and to kill the cells, often relies on finding a drug that can inhibit the cells' ability to communicate. Cells communicate via complex signalling pathways, and finding the right one to focus on can mean the difference in survival in patients. Now, researchers report that the Notch signalling pathway may be the key to stopping cancer growth in rare cancers, such as mesothelioma.
Patients with a wide range of cancers who had mutations of the Notch protein were selected for a study conducted by researchers from the Institut Gustave Roussy Cancer Campus in France. They focused on the Notch signalling pathway because of its role in driving cancer cells to grow, divide, and spread throughout the body. In addition, they report the Notch pathway plays a role in growth of new blood vessels that feed tumor growth and helps cancers become chemo-resistant. The pathway uses four Notch proteins that transfer messages across the cell membrane.
Expert Insight
Dr. Christophe Massard
"One of the interesting results with implications for some patients is that the drug was active against rare cancers such as adenoid cystic carcinoma."
When the patients in the Phase I clinical trial were given LY3039478, a novel and potent Notch inhibitor, some of the patients experienced tumor shrinkage, disease stabilization and no further progression. These results were also seen in the rare cancer, adenoid cystic carcinoma.
"The results from this phase I trial prove that LY3039478 has the effect on tumours that was expected, by inhibiting the Notch signalling and thereby preventing cancer cell growth and proliferation," said Dr. Christophe Massard, senior medical oncology consultant and chair of the Early Drug Development program at Gustave Roussy.
Pleural mesothelioma is a rare form of cancer caused by exposure to airborne asbestos fibers. The cancer, that affects just 3,000 Americans each year, is highly aggressive and is resistant to many current treatments. Care often follows the same protocol as lung cancer. Currently, there is no known cure for mesothelioma, but research such as this brings hope to the mesothelioma community that an effective treatment is on the horizon.
The trial results were presented at the 28th EORTC-NCI-AACR Symposium on Molecular Targets and Cancer Therapeutics in Munich, Germany.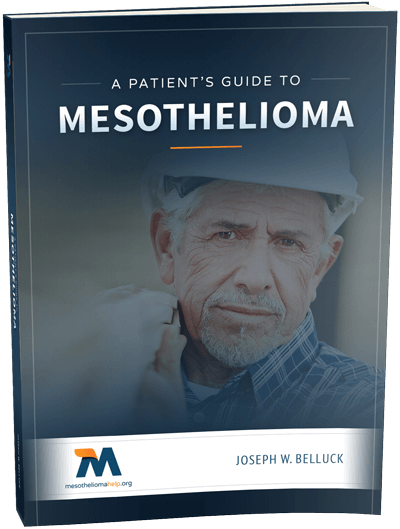 Free Mesothelioma Patient & Treatment Guide
We'd like to offer you our in-depth guide, "A Patient's Guide to Mesothelioma," absolutely free of charge.
It contains a wealth of information and resources to help you better understand the condition, choose (and afford) appropriate treatment, and exercise your legal right to compensation.
Download Now