Mesothelioma Patient Celebrates Remission of Asbestos Cancer
Sherrie Moore, a 55-year-old Missouri woman, hopes to live to see her grandchildren grow up. As 2012 begins, Moore is marking more than just the new year. She is celebrating the remission of her mesothelioma for more than a year.
Mesothelioma is an aggressive cancer of the lining of the lungs and abdomen caused by asbestos exposure. But it can be difficult to detect as Moore's circuitous path to a diagnosis shows.
Four years ago, Moore, who lives in Carl Junction, Missouri, was experiencing fatigue, an elevated heart rate and eventually pain in her right side that extended into her back. She assumed it was caused by the stress and physical exertion of caring for her husband Ed who had prostrate cancer.
According to an article in Cancerwise published by the M.D. Anderson Cancer Center, Moore underwent a series of medical tests that revealed a low hemoglobin count. A colonoscopy showed normal results as did a CT scan of her liver and pancreas. The doctor who performed a CT scan thought something looked abnormal about her lungs and referred her to a pulmonologist.
A pulmonary specialist did an x-ray and discovered a small volume of fluid in Moore's lung and put her on antibiotics. Fluid in the lungs, also called pleural effusions, is one of the common symptoms of mesothelioma reported by many patients. When Moore returned at the urging of the pulmonologist, she had another CT scan that revealed nearly two liters of fluid in her right lung. She underwent an outpatient procedure and biopsy that were inconclusive.
The cancer specialist to whom she was referred recommended an open lung biopsy. The surgeon who performed the procedure in November 2008 found 15 tumors in Moore's right lung and diagnosed Moore with stage IV mesothelioma.
The doctor recommended that she seek treatment at M.D. Anderson Medical Center in Texas.
With patients with cancer limited to one lung, doctors may remove the cancerous lung and surrounding tissue and perform chemotherapy and radiation. But Moore had mesothelioma in both lungs so she had limited treatment options.
Moore underwent 28 chemotherapy treatments that lasted until December 2010. Before the treatments concluded, there was no active sign of mesothelioma. Moore's physicican, Dr. Anne Tsao, director of the mesothelioma program at M.D. Anderson, informed Moore that she was the first of her patients to achieve full remission.
Approximately 3,000 people in the U.S. are diagnosed with mesothelioma each year. Many are older workers, veterans and retirees who were exposed to asbestos in the workplace decades ago. Typically, mesothelioma symptoms appear 30 years to 50 years after initial exposure to asbestos.
For more information about mesothelioma, click here.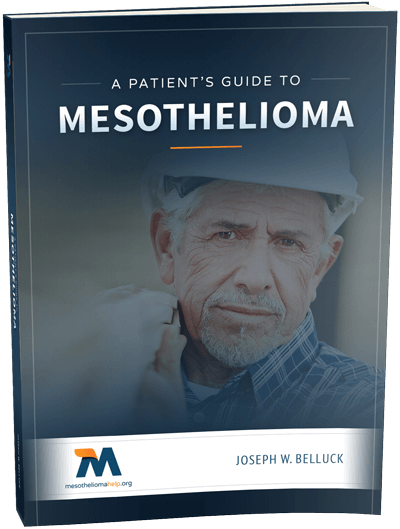 Free Mesothelioma Patient & Treatment Guide
We'd like to offer you our in-depth guide, "A Patient's Guide to Mesothelioma," absolutely free of charge.
It contains a wealth of information and resources to help you better understand the condition, choose (and afford) appropriate treatment, and exercise your legal right to compensation.
Download Now